There's a lot of zombie stuff out there, and most of it is crap. People like to jump on bandwagons and produce quick tie-ins rather than investing love and effort into their creations. Luckily for you, I'm here to help separate the wheat from the chaff. Check back every Thursday, when I'm going to share the coolest zombie-related creation I can find out there on the web.
The Zombie Creation:
This week's LEGO Zombie creation, "Zombie Domestic Dispute" by Brick Police, gives us a slightly less violent version of the zombie apocalypse, where the zombies are less concerned with eaten the living, but still can't quite seem to get along.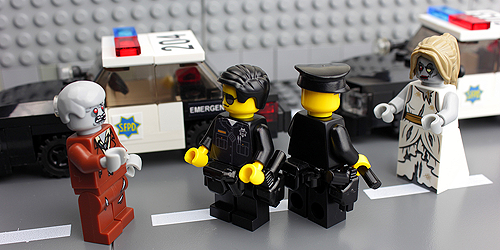 So What's Going On?
The LEGO® police force has responded to some sort of domestic dispute in which both parties are zombies. It's sort of a strange concept, I'll admit, but it made me smile.
An interesting thing about this creation is the the fighting zombie couple are doing their fighting out on the streets, rather than in the privacy of their own home. And, judging by the background here, it sort of looks like they're fight on the freeway, which is interesting.
Let's Talk About the Zombies
The zombies hear are a couple, and judging from the woman's ragged wedding gown, I think we can assume they're married. Or perhaps they were married before they were killed and zombified. The guy also has gray hair, while the woman looks much younger. Perhaps there was a big age difference between them, or perhaps they aren't actually married to each other. Zombie cheaters; they never learn.
Have you seen a great zombie creation out on the web? Are you working on the next great zombie MOC as we speak? Well you had better let us know right away, otherwise we'll never be able to include it here.