There's a lot of zombie stuff out there, and most of it is crap. People like to jump on bandwagons and produce quick tie-ins rather than investing love and effort into their creations. Luckily for you, I'm here to help separate the wheat from the chaff. Check back every Thursday, when I'm going to share the coolest zombie-related creation I can find out there on the web.
The Zombie Creation:
This week's LEGO Zombie creation, "I've Never Walked Through the Woods" by CrazyStarWarsGuy, is – as the title overlay suggests – pulled right from The Last of Us, the PS3 zombie game that blew everyone's mind last year. If you haven't already, read our review here: Part I, Part II.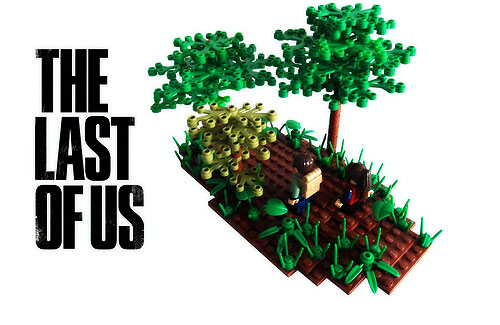 So What's Going On?
The Last of Us is a post-apocalyptic game in which the protagonist, Joel, tries to smuggle a young girl, Ellie, to a group of people dedicated to ending the zombie outbreak. When the story starts, we're several years into the new way of life, and children like Ellie don't know any other way to live. So when you finally get to the wilderness, Ellie is completely gobsmacked to be out of the city. It's a poignant moment that's very well represented here.
Let's Talk About the Zombies
While there aren't any zombies in this creation, the zombies in The Last of Us are quite interesting. Rather than being the victims of a virus or bacterium, they're the victims of a fungus that takes over their brains and then focuses on replicating and spreading. It's pretty cool, and makes for some extremely creepy zombies. The fungus also takes over in a few different stages, which gives the zombies a nice bit of semi-realistic variety.
Have you seen a great zombie creation out on the web? Are you working on the next great zombie MOC as we speak? Well you had better let us know right away, otherwise we'll never be able to include it here.