There's a lot of zombie stuff out there, and most of it is crap. People like to jump on bandwagons and produce quick tie-ins rather than investing love and effort into their creations. Luckily for you, I'm here to help separate the wheat from the chaff. Check back every Thursday, when I'm going to share the coolest zombie-related creation I can find out there on the web.
The Zombie Creation:
This week's LEGO Zombie creation, "Desperation" by our very own Foolish Lego, features beautiful photography that really captures the emotion of the scene. A quick note here, this comes from Foolish Lego's own site, which you guys should totally check out for two reasons: 1. Foolish Lego is cool and we should support his creative endeavors and, 2. He's got some very fine work that needs to be seen. There's a comic and one of those cool 365 Day Photo Challenges.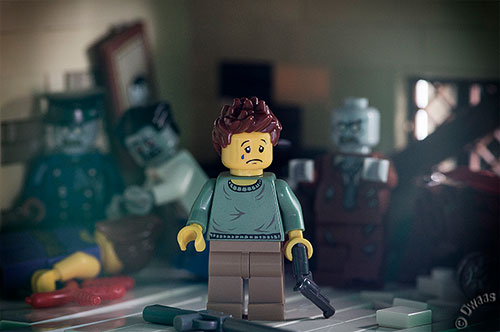 So What's Going On?
This is one of those creations that suggests a ton of back story. I absolutely love these, because you can come up with all sorts of theories about what happened. Obviously, this survivor got boxed in and has run out of ammo, but how did he end up in this situation to begin with? Was he part of a larger group at some point? Did he betray them and steal the guns, only to get trapped himself? Or perhaps they were overrun and he's the last man standing.
Let's Talk About the Zombies
I love how these zombies are slightly out-of-focus in the background, which just makes them look all the creepier and more dreadful. Some of them are distracted by other things in the room, but our poor survivor only has a few moments before they close in for the kill.
Also a cool bonus: these all appear to be official LEGO Zombie minifigs.
Have you seen a great zombie creation out on the web? Are you working on the next great zombie MOC as we speak? Well you had better let us know right away, otherwise we'll never be able to include it here.