LEGO® bricks and minifigs are incredible versatile. You can play with them, game with them, build with them, teach with them, tell stories with them, and countless other things. It's always fascinating to see the creative ways people use LEGO®. The Brick Bible has long been one of my favorites, so when Skyhorse Publishing was putting out a similar volume, Brick Shakespeare, I got excited.
Brick Shakespeare covered four of the bard's most well known tragedies: Hamlet, Macbeth, Romeo and Juliet, and Julius Caesar. That's a mighty fine selection in my book. It looks like this is simply the first collection, which focuses on tragedies. Hopefully that means comedies are planned for later, because I'd like to see A Midsummer Night's Dream and The Tempest (although it's debatable if that's a proper comedy) rendered in LEGO®.
From where I'm sitting, they could have done one of two things when it came to the sets and backdrops of these plays: do it up like a movie with full sets, or keep it very conservative and style it like a stage play. The editors went with the former, and the book looks quick good. If you're curious what it might have looked like had they chosen the stage-play route, you get a brief glimpse of this in the play-within-a-play in Hamlet. If they go on to do more volumes, I'd like to see them approach an entire play like this.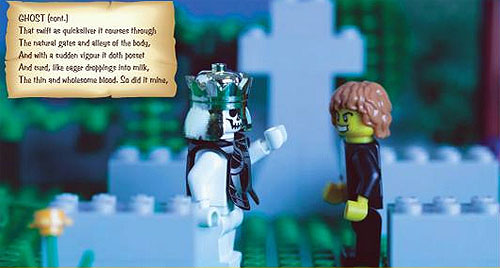 So as I said, the set building and staging are nicely done. Nothing is so extravagant that it detracts from the play, but nothing looks rushed or cheap either. The characters are a very nice mix, and everyone feels distinct. Their looks generally match their personalities quite well, which is often hard to pull off with LEGO®.
I do have one complaint about Brick Shakespeare, however, and that is that the plays are all abridged. The book does a good job of picking the more exciting scenes to use, but I really dislike abridgement and would have liked to see these plays in their entirety. I think that would also have opened this book up to the education system, which might help kids get over the common resistance to Shakespeare.
With that said, I do understand the decision. Each play is quite long, and by abridging them they were able to cover more ground in the book. If they featured the entire work, odds are we would have only ended up with Hamlet and Macbeth.
Other than that complaint, I was very impressed with Brick Shakespeare. I tore through the book in just a couple of days, which is always a fine statement of entertainment value. Of course, I was and English major and have read a lot of Shakespeare in school. I'll bet I've read Hamlet a dozen times. People with less affinity for the writing might struggle a bit more, but I would argue that this makes Brick Shakespeare all the better for them as it removes part of the intimidation factor that seems to come with reading the classics.
Grade: