There's a lot of zombie stuff out there, and most of it is crap. People like to jump on bandwagons and produce quick tie-ins rather than investing love and effort into their creations. Luckily for you, I'm here to help separate the wheat from the chaff. Check back every Thursday, when I'm going to share the coolest zombie-related creation I can find out there on the web.
The Zombie Creation:
This week's LEGO Zombie creation, "Not a Creature was Stirring" by LegoKlyph, is something I should have discovered a few weeks ago so as to be featured on or around Christmas. But still, better late than never, right?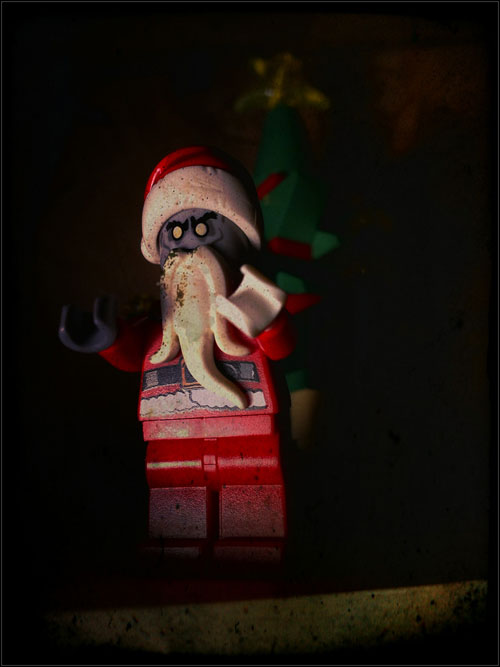 So What's Going On?
Santa's a zombie. That's a quick and dirty version of this little story.
Of course, that's not why I'm featuring it here. We're looking at this creation because of the beautiful photography and texture. This just looks creepy and dirty. It's something horrible creeping up through the night. The lighting is also fantastically creepy. It's just enough to show off Santa without giving us too much context beyond that.
Let's Talk About the Zombies
Well, "zombie" in this case. Normally, a single zombie wouldn't be a big deal. But this is a zombie Santa Claus. Santa has all sorts of crazy magic, and that makes me wonder whether his zombified form would inherit any of that. Could he cover the entire world in a single night? Can he haul tens of thousands of pounds of cargo in a single sack? Can he squeeze through tiny chimneys to infiltrate his victim's homes?
Have you seen a great zombie creation out on the web? Are you working on the next great zombie MOC as we speak? Well you had better let us know right away, otherwise we'll never be able to include it here.