There's a lot of zombie stuff out there, and most of it is crap. People like to jump on bandwagons and produce quick tie-ins rather than investing love and effort into their creations. Luckily for you, I'm here to help separate the wheat from the chaff. Check back every Thursday, when I'm going to share the coolest zombie-related creation I can find out there on the web.
The Zombie Creation:
This week's LEGO Zombie creation, "Dr. Death" by delgax, looks more like a movie poster or an album cover than a traditional MOC, which is just fine by me. Sure, there's not complicated building here, but the posing, lighting, photography, and effects more than make up for that.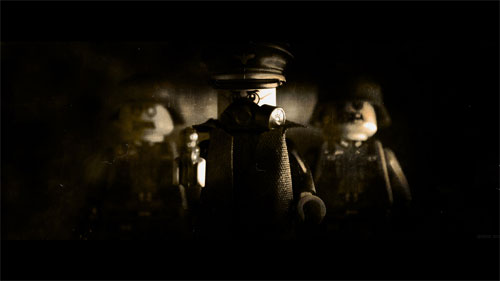 So What's Going On?
The epithet "Doctor Death" has been applied to a number of people over the ages, recently Dr. Jack Kevorkian, made famous as the face of euthanasia in the 1990s. In this case, we must assume that the Dr. Death is really Josef Mengele (also known as "The Angel of Death"), who was the concentration camp physician at Auschwitz where he performed countless horrifying experiments on people.
Mengele is one of the most evil people who have ever existed, which likely makes a few of you uncomfortable with the portrayal here. Fair enough.
However, if we disassociate the horrifying historical truths, the creation is still incredibly creepy and effecting.
Let's Talk About the Zombies
The zombies here are an extremely popular variant: the Nazi Zombie, made popular in video games and movies such as Dead Snow. I have mixed feelings on Nazi Zombies. On the one hand, I loves me some historical zombies. On the other hand, I think the atrocities of the Nazis should largely stand alone, and I worry that conflating them with zombies could possibly take the sting out of their crimes.
Have you seen a great zombie creation out on the web? Are you working on the next great zombie MOC as we speak? Well you had better let us know right away, otherwise we'll never be able to include it here.