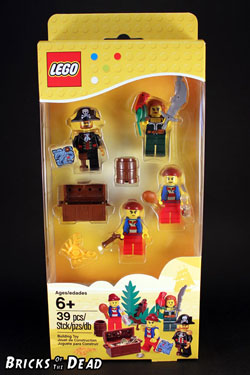 A few months ago, I reviewed here two small Minifigures sets. The Rock band and the Halloween accessory pack. It appears these sets must have sold well enough because LEGO® is releasing today a new similar set, in the Pirate theme this time.
The price tag is unfortunately still the same: $14.99 but in this set you get four Minifigures instead of the three that had been included in the other packs. Because of the extra minifig, and I'm guessing in order to keep the price tag consistent, the piece count has been lowered to the anecdotal level of 39 elements.
Official set description:
LEGO® Classic Pirate Set
Item: 850839
Pieces: 39
MSRP: $14.99
Build and plunder with the LEGO® Classic Pirate Set!
Build a crew to pillage and plunder with the Classic Pirate Set! Create an adventure on the high seas with 4 minifigures, weapons, treasure, a map, crab and a parrot. Easy to build!
• Includes crab, parrot and 4 pirate minifigures with weapons
• Features treasure chest and gold elements, map, barrel, leaf elements and telescope
• Easy to build!*
*yeah, right, there's hardly anything to build here!
The first thing that struck me when I reviewed the other minifig packs last year was that the boxes were 100% made of plastic, which I think we all agree is not exactly environmental friendly. It appears that the folks over in Billund have read my reviews and took note of my complaints because for this new set they have changed their packaging slightly as the plastic cradle holding the figs is now swiped in a cardboard box. Since it appears I have their attention, allow me to pass on a message.
It's an improvement guys but you can still do better, and while you're at it, why don't you lower the price tag? Mange tak!*
*That's Danish for "Thank you".
The other sets appeared to have been inspired by the Collectible Minifig series by reusing with a few minor tweaks the figs that had been released individually. No such thing here because none of the four Minifigs included in this set were released in the Collectible Minifig line. I had a doubt about the Pirate Captain but as you can see in this comparison shot next to his Collectible Minifig Series Five counterpart, the designs are completely different.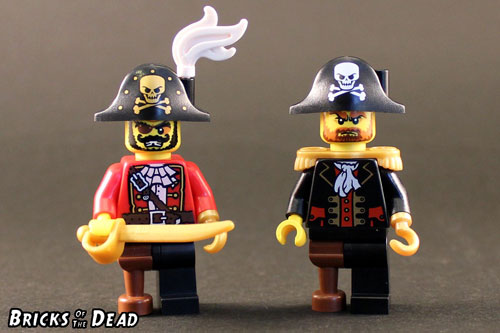 This leads me to my biggest grudge against this set, there is absolutely nothing exclusive about it. All the parts and minifigs have been included in other sets before. The most interesting part are probably the two Dark Red rags, but at $15 I'm sure we will all agree that these are hardly a selling point. The two sailors bear identical torsos (all figs have double sided torso printing) and are rather uninteresting, unless perhaps you are trying to build yourself a large pirate ship crew.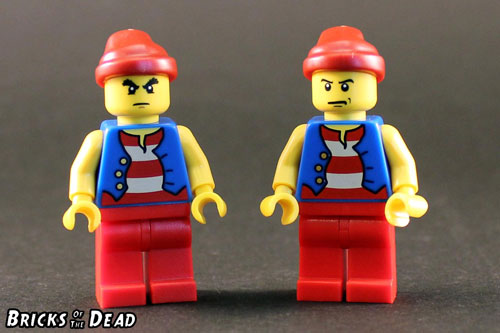 Let's now turn ourselves toward the real star of the show, the female pirate minifig. Let's call her Angie.
Angie is clearly the badass here, the other three guys are her insignificant sidekicks and this is in my opinion the only real interesting aspect of this set.  I mean, look at her the oversized scimitar and the parrot; she is without a doubt the true leader of this little gang ,and having a female character so prominent in a gender free LEGO® set may very well be a first.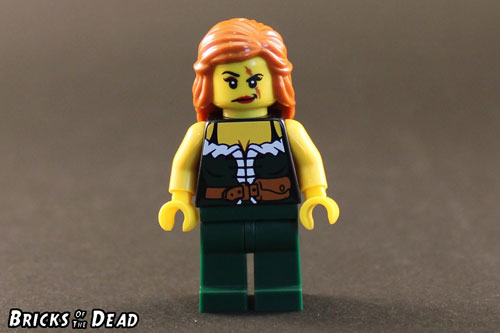 Here is the family picture. What did I tell you, no doubt that she's in charge here. The Captain can brood all he wants, he's history.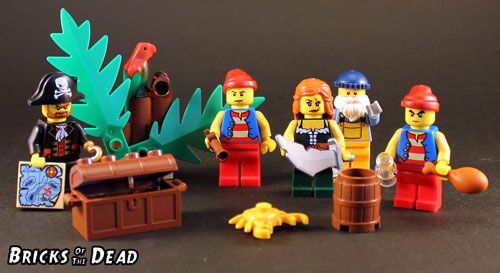 Doing set reviews is a very interesting exercise; you must pay attention to details that you would typically overlook. This is how I came to discover two things. First, and you may want to sit down because this is going to rock your world, there are two different LEGO® turkey leg pieces, a short and a long one. Ha! I bet no one here knew that!
Second, and that's even more ground breaking, LEGO® is guilty of making false publicity. I know this is a very serious accusation but I have proof!  I have asked my good friend Dave to illustrate my point (For some reason I happen to think Dave is a chicken wing kinda guy so it seemed appropriate, not to mention that the rag looks dashing on him).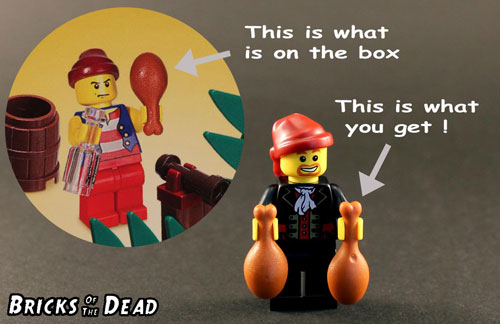 There you go, the naked truth. I'm going to call LEGO® customer service right away, I'm sure it will make an interesting discussion.
Silly things aside, I'm giving this one a two zombie head. The set is lacking some exclusive elements and with the exception of Angie the figs are boring.
Grade:

Want on? Go buy a Pirate Minifig Pack now (it's not actually on the site yet, but I'm sure it will be too). Any maybe some more LEGO. Dave could use the kickbacks.