There's a lot of zombie stuff out there, and most of it is crap. People like to jump on bandwagons and produce quick tie-ins rather than investing love and effort into their creations. Luckily for you, I'm here to help separate the wheat from the chaff. Check back every Thursday, when I'm going to share the coolest zombie-related creation I can find out there on the web.
The Zombie Creation:
This week's creation, "Hope" by Legopard, is quite a bit different from what we normally feature in this space, in a good way. Instead of desperate survivors ringed with flesh-hungry zombies we get this: a flower blossoming on a dead tree.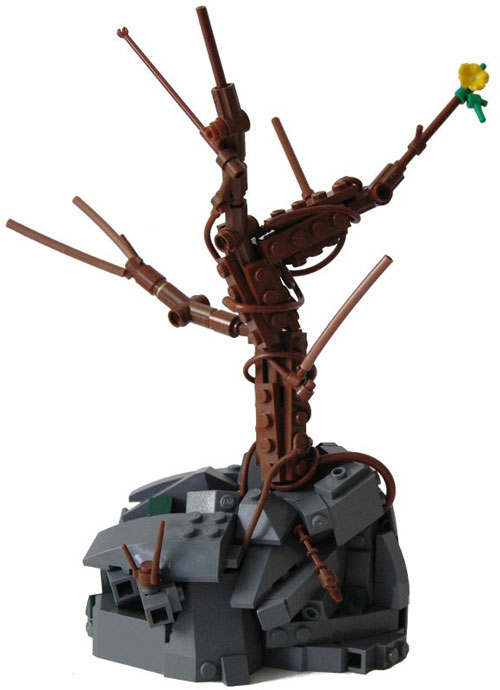 So What's Going On?
It's a bit on the nose, of course, but I kind of like that about this. It's a very literal interpretation of hope done up in proper LEGO® style, and I think it's brilliant.
A lot of that brilliance comes from how well rendered the creation is. Despite being built with angular blocks, the whole creation has a very natural, organic shape and flow, which is tough to pull off (at least for me). The nature of the build gives this creation a lot of life, which lends heavily to the theme of hope.
Let's Talk About the Zombies
There are, of course, no zombies here. That would pretty much go against the point of this creation. This is hope blooming in the desert, not an all-you-can-eat zombie buffet.
But can we imagine there were zombies prior to this wellspring of hope? You're damn right we can.
Have you seen a great zombie creation out on the web? Are you working on the next great zombie MOC as we speak? Well you had better let us know right away, otherwise we'll never be able to include it here.