There's a lot of zombie stuff out there, and most of it is crap. People like to jump on bandwagons and produce quick tie-ins rather than investing love and effort into their creations. Luckily for you, I'm here to help separate the wheat from the chaff. Check back every Thursday, when I'm going to share the coolest zombie-related creation I can find out there on the web.
The Zombie Creation:
This week's creation, "Zom-Be-Gone Complete Home Protection System" by Heiwa71, is a pretty cool one showing a suburban home completely up-armored to defend against the zombie apocalypse. I love how over-the-top this is; even the roof is armored. It gives is a comic, almost whimsical feel.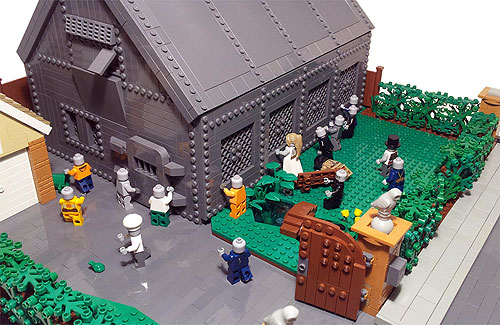 So What's Going On?
If you look at his Flickr Photostream, there's actually a series of photos that shows this how going from a standard home to a zombie-proof fortress. It's really cool to see the build and how radically it changes, and it a really clever approach to building.
And the best part? I didn't even realize that history was there when I decided to blog about this creation. It was just an awesome bonus I discovered along the way.
Beyond all that, this is really just a beautiful build. The house dominates the scene, and it's easy to lose focus on the other things, but there's a lot of nice detail going on here. For instance, the front gate is just beautiful, and I love that the garage picks up the same textures.
Let's Talk About the Zombies
The zombies here appear to be your standard shambling mob of Romero-style zeds, but even if they were crazy-fast 28 Days Later-style ragers ,they'd still have little chance of breaking through this home's incredible defenses.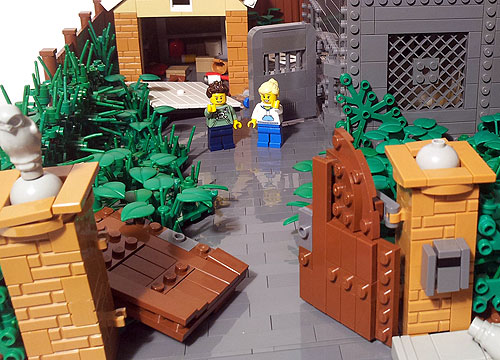 Have you seen a great zombie creation out on the web? Are you working on the next great zombie MOC as we speak? Well you had better let us know right away, otherwise we'll never be able to include it here.