So Series 10 minifigures are upon us and with that brings the expected mix of sporty, historical and downright bizarre character selections. I was keen to get my hands on this range as there are some pretty cool figures and individual pieces amongst them, very handy for MOC's or customizing your own minifigs.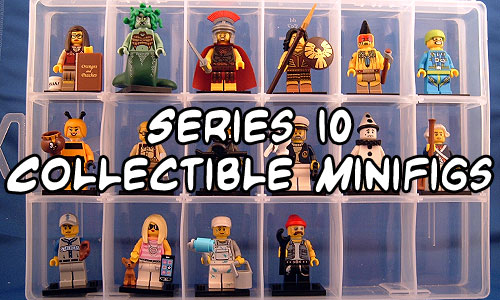 Librarian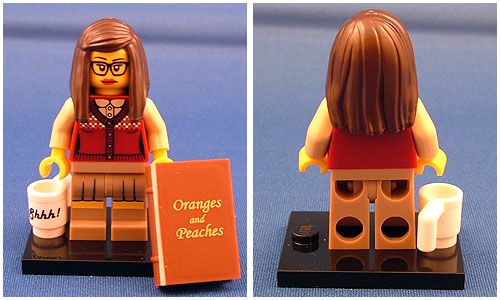 Here we have a companion piece for the computer nerd from Series 7. In my mind it looks like the LEGO® version of Amy Farrah Fowler from the Big Bang Theory, that aside it's a great figure with what I'm sure is a unique hairpiece, I may be wrong but I've not seen it anywhere else. The body print is only on one side but is a rather nice cardigan/skirt combo that just screams 'geek' to me. The only thing I'm not keen on is the oversize book…..never been a fan of these.
Medusa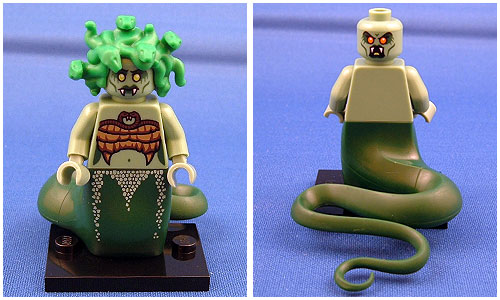 This in my mind is the "bizarre character". All the other series have had a mythical creature of some sort and this carries on that theme. To me it's a bizarre theme to bring to the LEGO® world. Now that that's out the way, lets talk about the figure itself, the hairpiece is superbly detailed (I counted eight separate snake heads). The head has a dual print, one side is a 'snarling face' while the other is a more 'relaxed look'. The lower torso is brilliant, instead of using a sloped brick that is typical of female dress's (and would have been a cop out in my opinion) it has been shaped to give her the body of a snake.
Roman Commander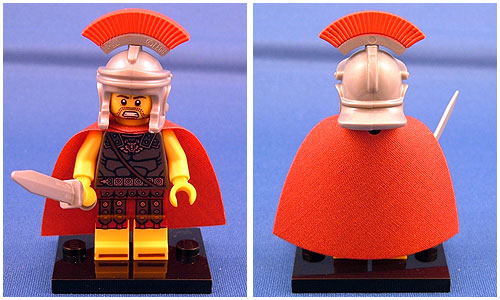 If you thought the Roman Soldier from Series 6 was great, then you'll love this guy. From the crest on his helmet to the Wolf motif on his chest armor, the attention to detail is excellent. It is however a copy of the sword from the Gladiator (Series 5)
Warrior Woman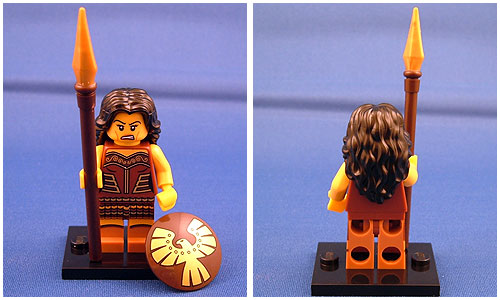 Or Boudicca if you prefer (someone to fight the nasty Romans; a rather horrific tale if you have time to research it). I love the shield that comes with this, it's a simple round shape but is convex with no center stud, which separates it from the other round shield designs that have appeared in previous Series. This is a single sided face print but it's a very cool 'angry' female face for a change and the torso has rather ornate body armor printing.
Tomahawk Warrior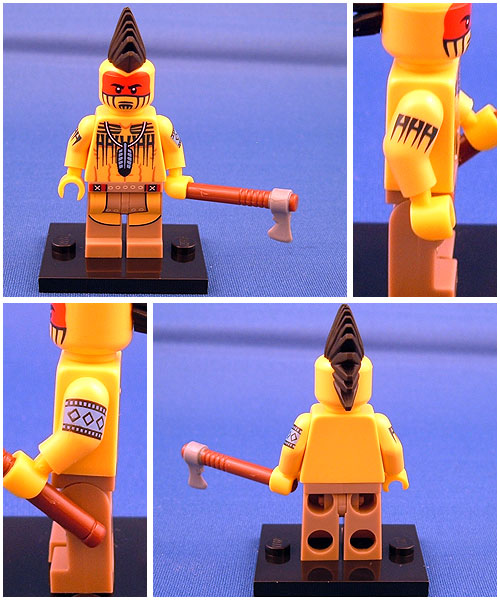 This guy would be a nice little addition to the new Lone Ranger sets that are coming out. A real attention to detail has been made with the war paint and tattoos on the torso and both arms. The mohawk is the same piece that came with the Punk Rocker from Series 4 so it's good to get it in another color.
Skydiver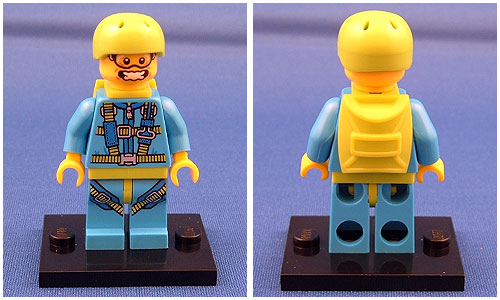 I love the face on this guy, depicting him in free-fall and the wind trying to wrap his lips back over his face. It's rather comical. Just a single sided body print here but straps everywhere including his legs just as you would expect on a real parachute harness. Not yet thought of how this guy could be used in a MOC but a nice piece none the less.
Bumblebee Girl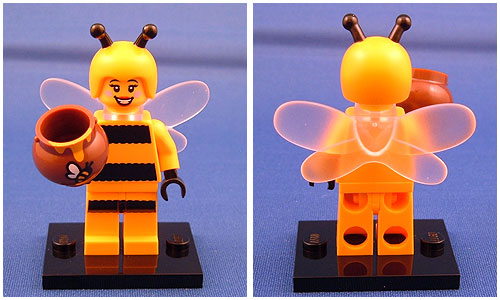 Another in the line of "LEGO® person in fancy dress" (to be honest I've never seen anyone dressed as a bumble bee in real life). Back to the figure, the body print is a basic bumble bee stripes and only on the front. A nice new female face print that could be used on any female minifig and wouldn't look out of place. The nice piece on this is the wings, a single piece mold similar to the Fairy wings from Series 8, only these are translucent white. The honey pot is the same design as the pot of gold that came with the Leprechaun but has a picture of a bee on the front with some honey running down from the lid.
Grandpa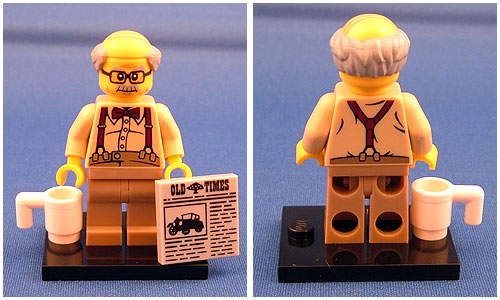 For me this is the pick of the bunch. The torso print (front and back) the face and of course the hairpiece!  Let me talk about the hairpiece first. A nice innovation from LEGO® on this one. It sits on the stud on top of the head like a regular hairpiece except that this one is bald up top with hair around the sides and back. It blends in that well that the head looks normal size even though it is not. As for the torso, trousers pulled up beyond the waistline and a crease across the shirt hinting at a bit of a belly underneath. I love it! All he is missing is a pipe and slippers and a rocking chair.
Paintball Player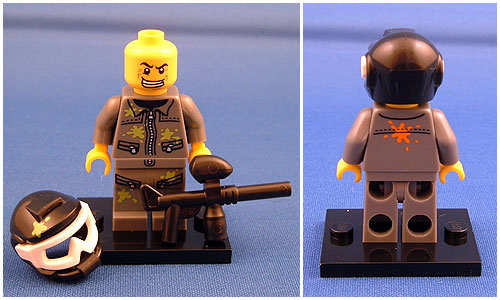 There are lots of things I like about this one, the paintball gun looks cumbersome and unwieldy just like how I remember the real things to be. The cheeky grin on the face is brilliant but is obscured by the over-sized helmet and goggles. The green paint splatters that are not only on the body and legs but helmet as well are surpassed by the single orange splatter in the middle of its back (another nod to The Big Bang Theory from the LEGO® group perhaps).
Sea Captain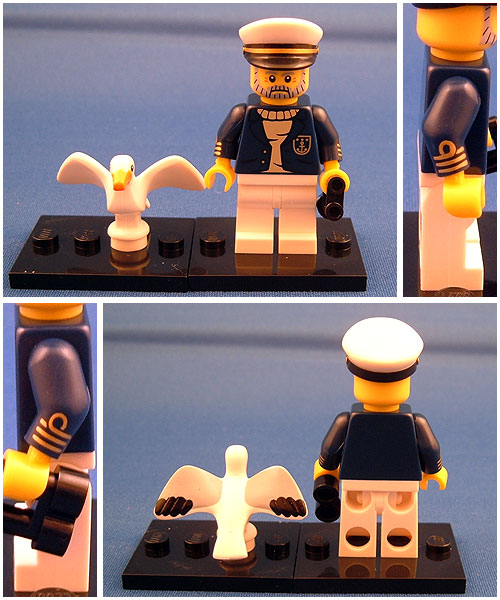 This chap is straight out of the yacht club, sporting a nautical style blazer and peaked cap. Only the front of the torso is printed on this guy but both arms have printing on them. Accessories for this one are a pair of binoculars and a seagull. The seagull is worth a mention as it's a really nice molding, it's good to have some bird life other than the parrot.
Sad Clown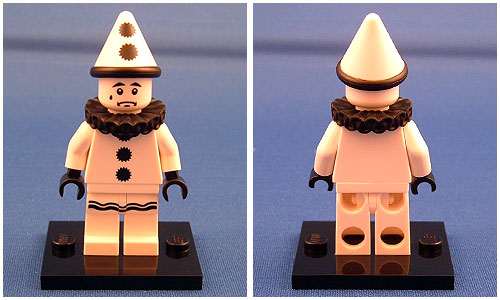 A very basic figure this one, no accessories with this unless you count the ruff around his neck and all the printing is on the front. Not much else to say about this one.
Revolutionary Soldier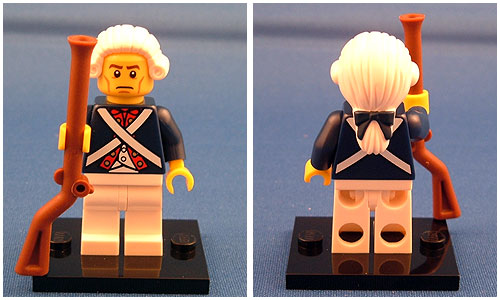 Nice design this one, the look of the uniform is realistic and printed on the front and back. A rather grim determined look on his face and the wig sets the figure off nicely. The one thing I would replace is the gun, I've never been impressed by the LEGO® version of a musket.
Baseball Fielder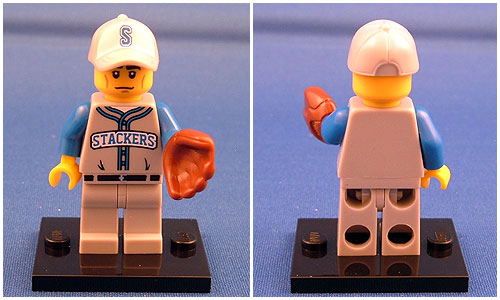 Nice little figure this. Smart uniform, new style of cap (I really like this style) and the glove is just fantastic. Only trouble is there is no spare hand for if you want to have him with the glove off. Would it really have cost that much to have put an extra hand in the bag?
Trendsetter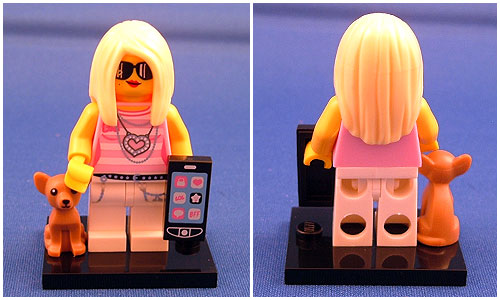 Its good to see a new female torso print as there never seems to be that many variations. A sleeveless top with some "bling", but again only the front is printed. The phone tile is good but the icons on it look more like they are from a teenagers Facebook page, by that I mean you will not be able to give your badass hero minifig this one; it's just not very macho! The puppy is a nice touch, showing a diversity of life in the LEGO® animal world as well.
Decorator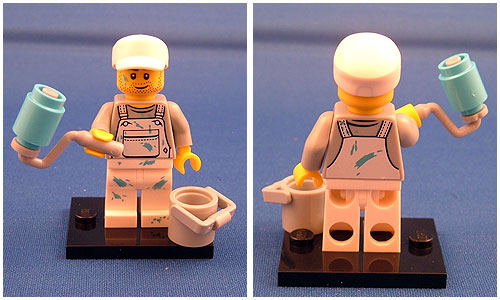 Another good one this, front and back body print depicting paint splattered overalls, a different style of cap again. The strange part is he is equipped with a paint roller and paint pot; anyone that has done DIY will know that you can't use a roller with a pot! That's only going to get messy! Perhaps I'm forgetting that these figures are primarily aimed for kids to play with, not for grown ups critiquing accessory combinations.
Motorcycle Mechanic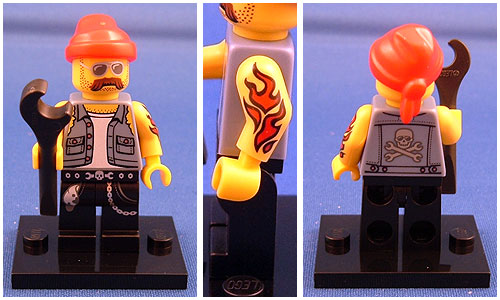 Only the left arm is tattooed on an otherwise excellent figure, I had hoped that both arms would be. However cannot fault the rest of him, from the sleeveless denim jacket to the key-chain hanging from the belt the detail is superb. It is only a single sided head print but that mustache is awesome. If only they had produced a new tool for him as the spanner has been in existence as far back as I can remember (and I can go back to the 70's) so something new like a tire iron or similar would have been good.
One of the main drawbacks of this series is the finishing on them, by that I mean the 'flash' has not been cleaned off on some parts of them, mainly hands and accessories. A couple even had visible mold lines on the arms, enough to leave a shadow. Something which I had not noticed on earlier series but irksome enough for me to go and check them over.
So there you have it: Series 10 and my feelings on them.
And no, I didn't find a Mr Gold.
Want a few of these? Grab some Series 10 Collectible Minifigs from LEGO® today!