There is a turn in every AFOL's life where the bricks are no longer enough to quench our thirst of LEGO… that's usually when the real problems begin. Our favorite Danish marketers are very well aware of our problematic condition and are more than happy to oblige us with their cursed merchandise… I am of course talking about the LEGO "gear". This category of derived products is actually quite diversified, from key chains to garments in addition to ice cube molds. Today I would like to share with you a short review of my latest acquisition, a LEGO notebook.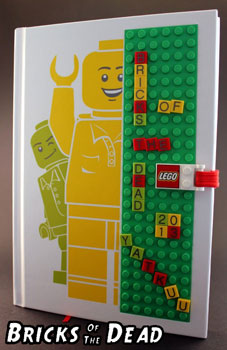 Official product description:
Set # 850686 – 9.99$ / 12.99$
Take the LEGO® building fun to school or work!
Keep your best building ideas inside of the LEGO® Notebook with Studs. This clasping bound notebook features a hard cover with an attached baseplate for building, right on your book! Use the included number and letter elements to make it your own.
Features a hard-cover bounded notebook, attached 6 x 24-stud baseplate and elements labeled with letter and number decals
Build, draw, write and plan with a LEGO® Notebook
Makes a great gift for LEGO fans
This notebook is an A5 size (5.8 x 8.3 inches) that includes 128 pages (64 leaves). It comes with 79 printed 1*1 tiles, you may check the detailed inventory on Bricklink. It is important to note that the letters are spread over three different colors of tiles – Red, Yellow and Lime Green. This means that no matter how many exemplars of this set you buy, you will never be able to have a complete alphabet in each color. This is the only real downside of this set because it limits the use you can make out of these tiles. That being said, the letter selection is good and as you can see from the above picture, it allows writing quite a few words already! Of course the set also includes a bunch of weird "useless" Danish characters… but there is also a selection of numbers, a very welcome addition!
The ruled paper is of an excellent quality, each page features a Minifigure illustration in the bottom corner, there are two different kinds.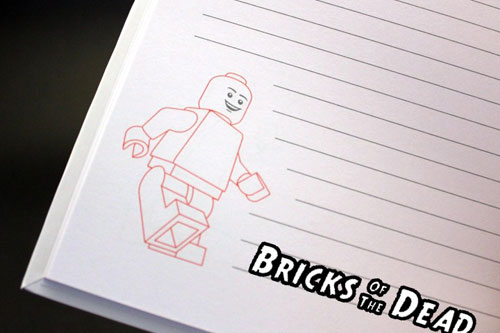 This notebook includes a red ribbon as bookmark and is held closed thanks to a simple LEGO contraption that you can snap onto the large green plate embedded into the cover, simple and effective. Note that the 2*2 LEGO printed tile is glued.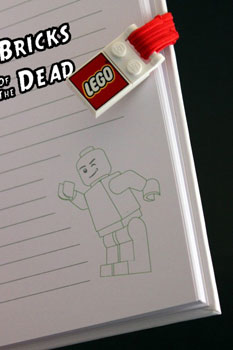 I do have two minor complaints about this set. First, it does not include an accessory to help removing the tiles. I honestly do not understand why they did not throw a crowbar in the lot; I mean… they do include one in every LEGO board game nowadays, so why not in this one set that requires it even more? Fans of LEGO will of course have the necessary equipment to do this but what about someone who does not have bursting LEGO coming out of every drawer in his house? My Second complaint is about the notebook cover color, white. This is all nice and shiny when it's new but I fear it will be a lot less appealing after a few months/years of service.
My two complaints aside I still consider this product as an absolute must have for every fan of LEGO. Whether you record your awesome MOC ideas in it as they suggest or you draft a future zombie best seller I think that each and every one will find an appropriate use for this book.
Moleskine recently issued a LEGO edition of their famous notebooks, the black embossed cover is probably a lot more classy but priced at 22$ it's a different budget and it does not come with printed tiles… So I made up my mind pretty rapidly!
If you are interested in this notebook I would advise you not to hesitate too long, this type of product is typically only available for a very short period of time.
Buy it now on the LEGO Shop at Home.
Grade:

Additional pictures: