There's a lot of zombie stuff out there, and most of it is crap. People like to jump on bandwagons and produce quick tie-ins rather than investing love and effort into their creations. Luckily for you, I'm here to help separate the wheat from the chaff. Check back every Thursday, when I'm going to share the coolest zombie-related creation I can find out there on the web.
The Zombie Creation:
This week's creation, "TranZit: Call Of Duty Black Ops II" by Lego Junkie, is obviously inspired by a video game. Being that I know absolutely nothing about Call of Duty Black Ops II, I'm just going to talk about the actual build. Cool with everyone? Great.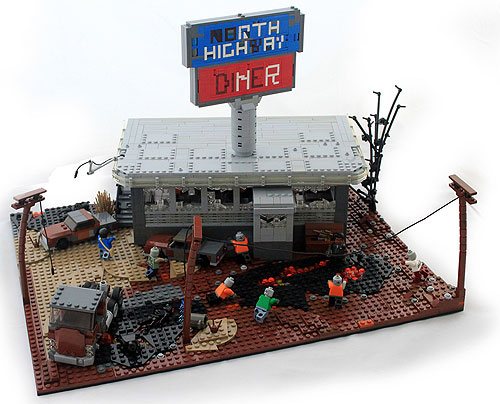 So What's Going On?
So we've got a run-down diner in the wasteland, with everything around it in a fairly advanced state of decay. Outside,we get a bunch of zombie surging toward the building, which presumably houses survivors (and I'm guessing those survivors are of the Black Ops variety; just call it a hunch). Seems like a pretty fantastic recipe to me.
The build itself is outstanding. the landscaping is solid, but the decayed structure and vehicles is where this really shines. The gray and rusty brown color scheme is perfect, the broken windows, leaning telephone poles, rusted out wrecks, and the myriad of other incredible details puts this build in the upper echelon of apocalego.
Let's Talk About the Zombies
I don't know Call of Duty, but judging by the way the zombies are posed here, we're talking fast zombies. At least some of them; others looks like they're taking a bit more of a leisurely pace.
Have you seen a great zombie creation out on the web? Are you working on the next great zombie MOC as we speak? Well you had better let us know right away, otherwise we'll never be able to include it here.