Set #: 9473
Pieces: 776
MSRP: $79.99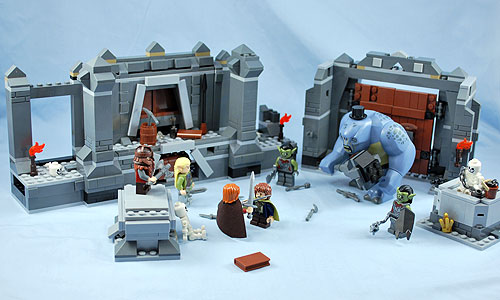 The Mines of Moria is the second-biggest set in the first run of LEGO®'s Lord of the Rings sets. It's also the only set to include Pippin and Boromir (Legolas showed up in a Hobbit set). I was on the fence about this set before building it. The photos that I'd seen looked a little dull. I liked that it was broken out into a couple different mini-models, but the whole scene wasn't too exciting for me. The Mines of Moria has always been one of my favorite parts of The Lord of the Rings books, so I really wanted to see a lot out of this set. I guess my mental picture was a little out of touch with reality. Thankfully, building out the actual set turned out to be a lot of fun, and it's just loaded with great parts.
Before we dive into the details, one thing I'd like to point out is that the instructions and sticker sheet for this set come in a separate baggie, with a cardboard backer to keep them from getting damaged. It's a nice bonus, and one I'd like to see in all sets. And speaking of stickers, I won't be using them for this review.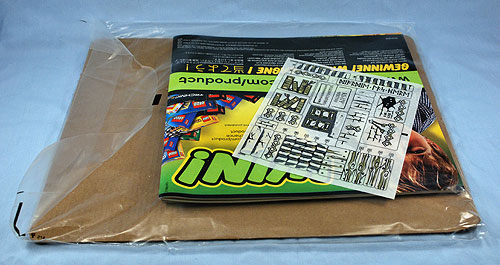 Bag One
Here are the parts from bag one, starting with plates and tiles: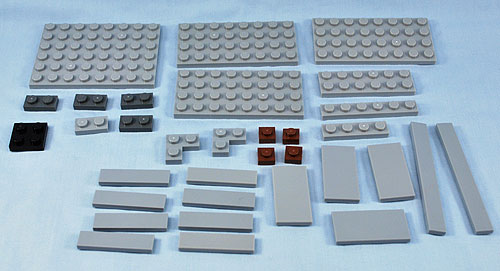 Then the brick and slope pieces: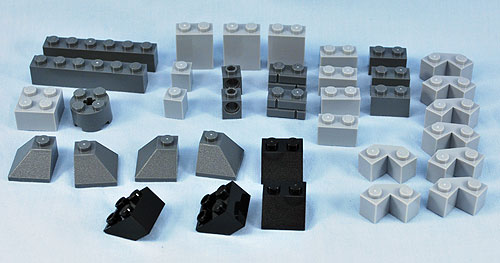 And finally, everything else: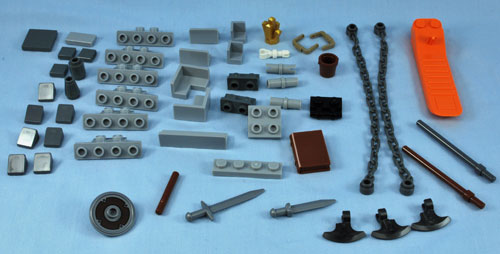 As you can see, there are lots of great pieces here, from tiles and cheese wedges, to "brick" bricks and a nice sampling of minifig weaponry. There's even another of those fancy new brick separators included.
The build for bag one consists of three small models. The first is the Cave Troll's hammer (we'll review the troll proper below). The hammer is an interesting enough build. It's got nice texture to it, and the skinny part of the hammer is hidden in the trolls hand, making it look much larger when wielded. The downside here is that, if the troll isn't stuck to studs, he tends to topple over very easily while holding the hammer (or anything else for that matter).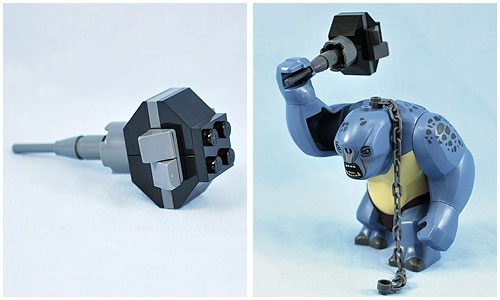 Next up we have a small well. You know, the one Pippin accidentally knocks the skeleton and the bucket into in the film. Well all that is included here too, including a pointless "play feature". All in all not a bad mini-model, but I wish it focused more on the build than on the single-use play feature (you're going to be hearing that a lot).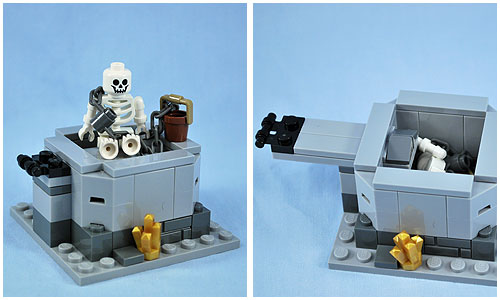 Finally, we get a little sarcophagus, complete with catapulting lid and hidden skeleton. The build is quite nice, the play feature is pointless, but at least you can combine it with the Cave Troll's hammer to recreate a movie scene (a little too literally for my taste).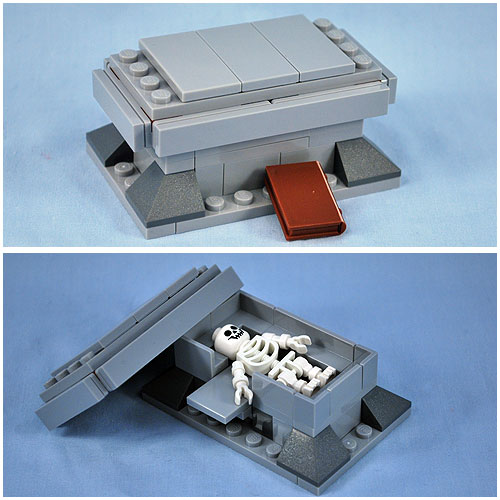 Bag Two
Things get much more interesting in Bag Two, where we leave the mini-models behind and get into the meat of The Mines of Moria. But let's not get ahead of ourselves; we'll start with the parts, as always. First up, the plates: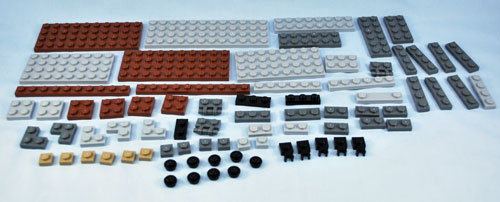 Then the bricks: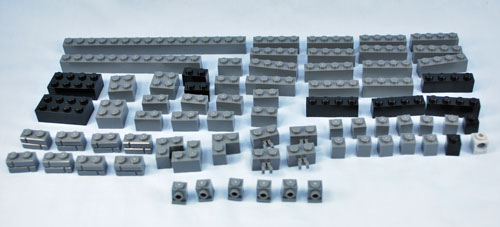 Slopes and tiles: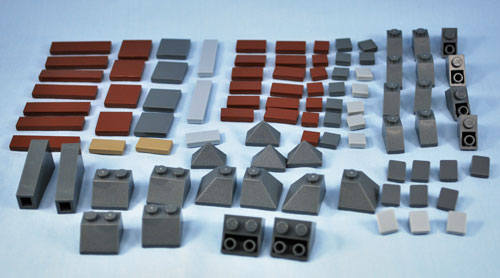 And everything else: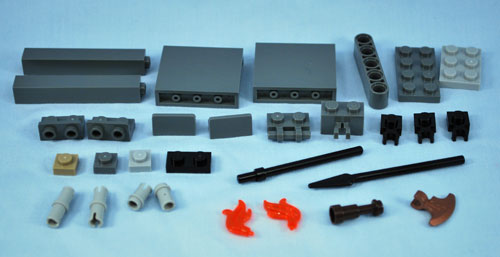 I really love the brick selection from this set (and from most of the Lord of the Rings sets, for that matter). There are just loads of generally useful building bricks here, and the dumbed down bricks (panels for the most part) are kept to a minimum.
Bag Two builds the doorway into the crypt, a large set of doors, buttressed with an old battle ax. The build itself is quite good. The build is large and varied, and the model is impressive in both its size and by the level of built in decay.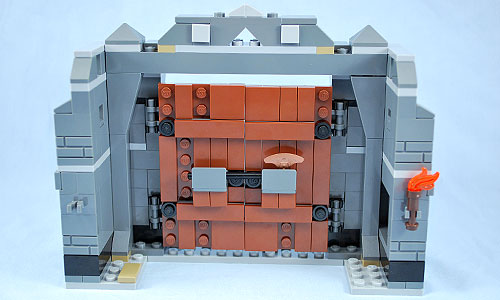 There's also a play feature, which knocks a big chunk of stone down to the ground. Again, I wish they would have concentrated on the building first, but I understand that kids love this stuff.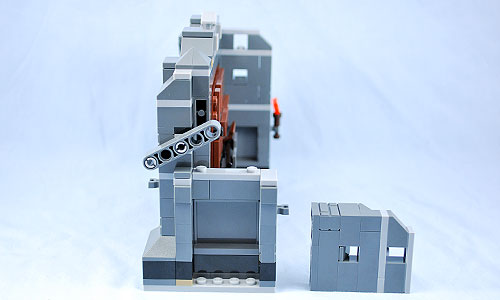 Bag Three
More parts continue into Bag Three, starting with plates:
And then bricks: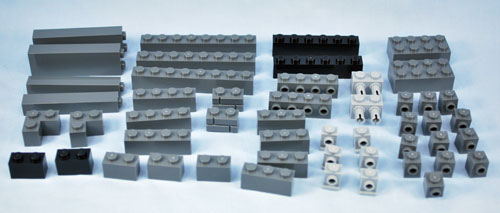 Slopes and tiles: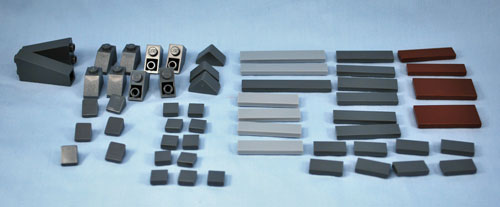 And everything else: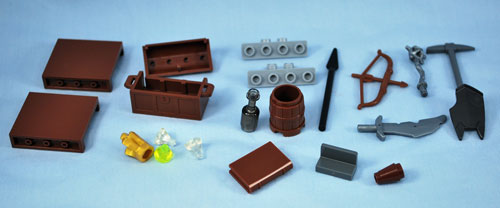 Again, a fine collection of parts, and no complaints from me. Everything comes together to build a wall featuring a treasure chest and library (you don't see the library because I didn't apply the stickers). It also features a bizarre play feature where the chest can be pushed out or pulled back. I have no idea what they were thinking with that one.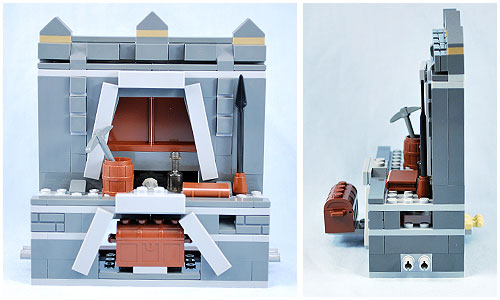 Bag Four
Finally, we get to the final bag, starting once again with plates: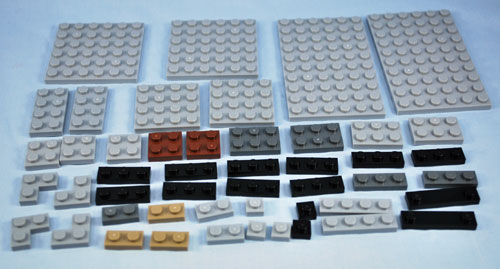 Then bricks:

Slopes and tiles:
Aaaand everything else: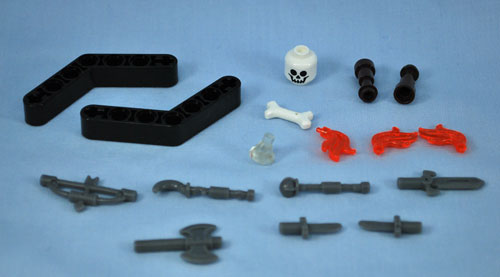 Good stuff, yet again. This bag builds out the two wings that make the treasure wall bigger. And, yes, there are play features. The two columns will topple over if you whack the levers around back. Of all the play features, this one is the most tolerable. It's a crumbling old mine, so pillars falling over makes a lot of sense (especially when there's a giant troll wrecking up the place).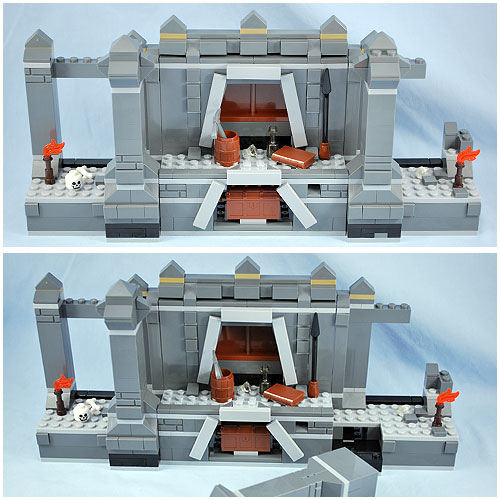 Minifigs
And let's not forget the minifigs.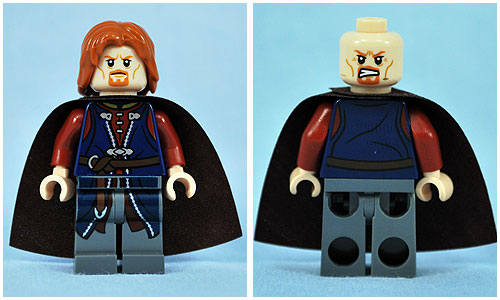 First up, we've got Boromir, who looks pretty close to his movie character (and to Ned Stark from Game of Thrones, which is kind of cool). Like all the minifigs in The Lord of the Rings sets, he has dual printing, which is quite nice.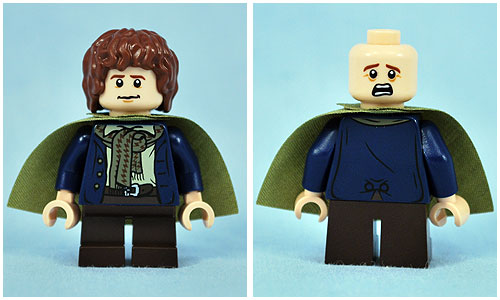 Pippin is sporting a fashionable scarf and jacket, and a pre-Lorien cloak. I love the surprised look on his face, which makes the fact that it's not yellow doubly a shame.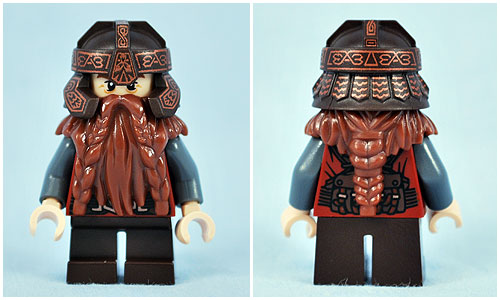 Gimli is an interesting character. between his helmet, beard, and ponytail, we really can't see much of him. You would think that, because of this, LEGO® wouldn't have bothered much with the details under all that hair. But you'd be wrong: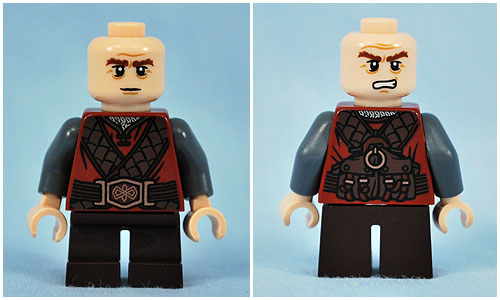 I'm really impressed that they put this much work into the figure, especially considering you don't see the vast majority of it.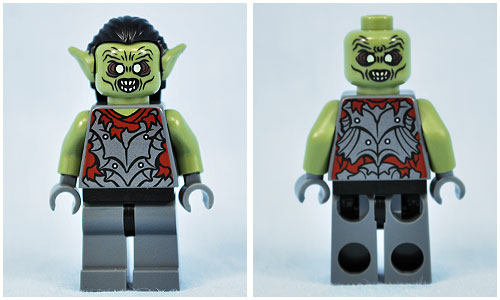 For bad guys, we get a couple of Moria Orcs, who aren't so big and tough as the Uraks we get in other sets. I like these guys quite a lot, especially the hollow-looking eyes and pointy ears. Both figures are the same, which is a little disappointing, but understandable. The reversible face is the same on both sides, which is a little strange.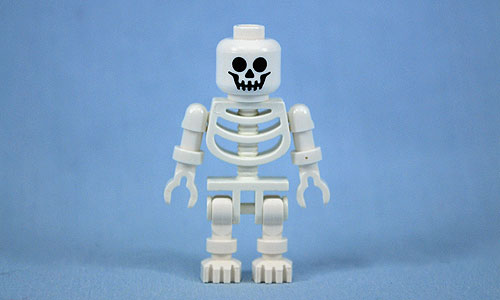 You also get two skeletons of the wobbly-armed variety. They're supposed to be scenery, but I'm counting them as additional minifigs.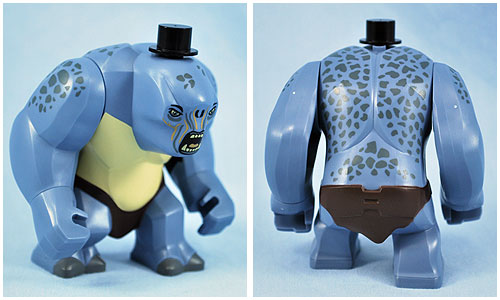 And here's the cave troll, a set exclusive. He's a fine enough figure, but I put a top hat on him to give him a more formal look. In all serious, the Cave Troll is really cool. He's huge, and features nice mottling across his back and shoulders. His arms and wrists are the only articulated parts, which is kind of a shame. But still, he's pretty cool.
Also, minifig feet fit perfectly in his hands.
Verdict
Mines of Moria is a pretty solid set. It's saddled with a few useless play features, but all in all, it's got a lot going for it. It boasts some fantastic minifigs, but the real star of the set are the parts. Loads and loads of great parts here, and with a decent price to parts ratio, especially considering this is a licensed set with quite a few minifigs and a Cave Troll.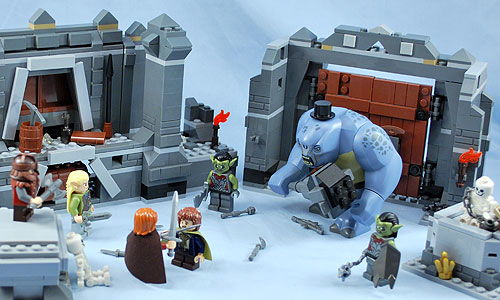 Grade:

Buy The Mines of Moria today