There's a lot of zombie stuff out there, and most of it is crap. People like to jump on bandwagons and produce quick tie-ins rather than investing love and effort into their creations. Luckily for you, I'm here to help separate the wheat from the chaff. Check back every Thursday, when I'm going to share the coolest zombie-related creation I can find out there on the web.
The Zombie Creation:
This week's creation, "Til Undeath Do Us Part" by Stephen_J_OM, is a delightful little creation. As I was thumbing through pictures, I was initially puzzled by this why. "Why," I thought, "is this picture of a happily married couple in a LEGO® Zombie group?" Then I took a closer look at the reflection. After I picked my jaw up off the floor, I knew I had to feature it (this creation, not my jaw) here.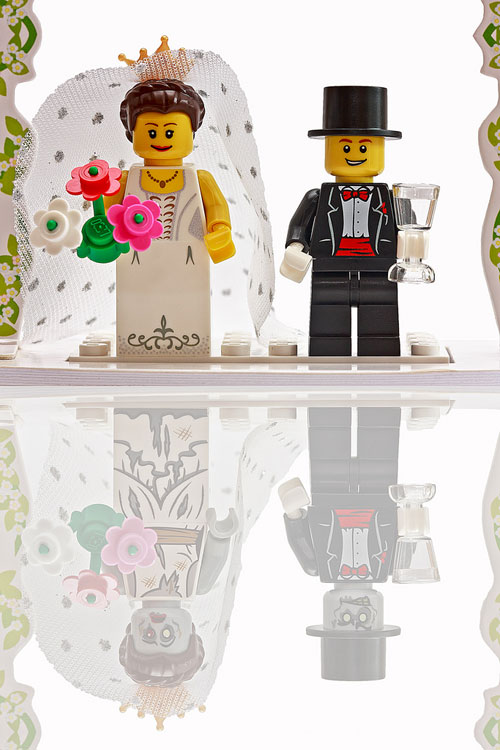 So What's Going On?
Here we have a fine example of juxtaposition. On the top, a happy married couple. On the bottom, the zombified remains of that same couple, looking a bit worse for wear. The effect is subtle and brilliantly done. The zombies looking faded and ghostly really adds to the underlying creepiness of the whole thing.
Let's Talk About the Zombies
One thing I really like about this creation is that it uses the bride and groom from the official set, The Zombies
(although the groom here has been re-dressed to more closely match the top half of the photo). While I wasn't in love with the set (read my review here), the minifigs were brilliant.
Have you seen a great zombie creation out on the web? Are you working on the next great zombie MOC as we speak? Well you had better let us know right away, otherwise we'll never be able to include it here.