A big part of my job is training. I train employees on processes, and how to use the software my company develops. I also train our clients on how to use the products they've purchased. Over the years I have learned that a lot of people tend to truly understand a thing once they understand why and how it works, rather than just learning the basic operation, or possible a few neat tricks. Now I am by no means a teacher, so I can't say that this is the "correct" way to teach, but it seems to work well for me.
And what does this have to do with The Unofficial LEGO Technic Builder's Guide? Well, it seems that the writer, Pawet "Sariel Kmiec, shares the same opinion. In the introduction he writes: "LEGO sets usually provide you with complete instructions and no explanation of how things work. I decided to take the opposite approach." I like this guy already.
Truth be told, I am not, not have I ever been a Technic builder. My parents got me a couple sets when they decided that I was getting to old for System sets, but it was never my passion. So when I got the opportunity to review this book, I was a little apprehensive. After all, I'm not really the target audience here, nor am I going to bring a lot of experience with me when reading the book. But then I read the introduction, and I was completely sold. This is an instruction book that gets it; this is a guy who knows how to teach.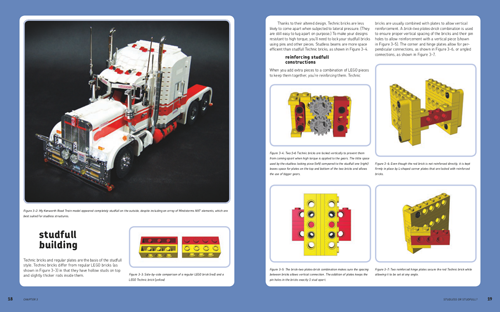 The book itself is very well put together. The content is well organized, and each chapter builds upon the previous in meaningful ways. We start out with some engineering basics: speed and torque, how things work together. Next we start taking a look at the various Technic pieces. Then we see how to combine the pieces with the concepts and really start building things. Instead of just providing step-by-step instructions, The Unofficial LEGO Technic Builder's Guide wants us to understand these concepts, as well as the tools at our disposal, in order to make better models.
The book is filled with beautiful, full-color photos and illustrations. Everything is noted, and the author points out specific technical aspects by building things in different colors. This really helps to bridge the gap between the idea and the product.
There are a lot of building instructions, but they're definitely not for the faint of heart, and the further you get into the book, the more complex they get. It's really interesting stuff, because all the way through it's building on the engineering fundamentals we picked up during the first part of the book.