There's a lot of zombie stuff out there, and most of it is crap. People like to jump on bandwagons and produce quick tie-ins rather than investing love and effort into their creations. Luckily for you, I'm here to help separate the wheat from the chaff. Check back every Thursday, when I'm going to share the coolest zombie-related creation I can find out there on the web.
The Zombie Creation:
This week's creation, "Days Gone Bye…" by WampaStompa, isn't actually made of LEGO®. Instead, it's an artistic rendering of a fantastic scene from The Walking Dead, done as though it were built with our favorite little plastic bricks. And it's awesome.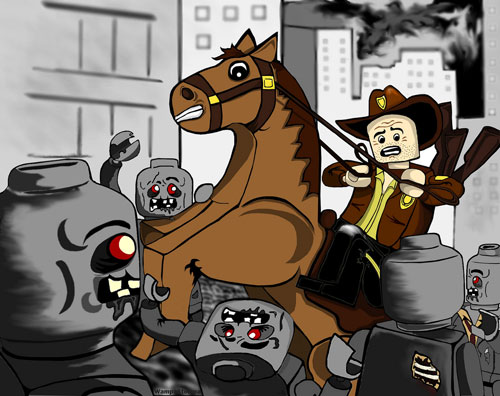 So What's Going On?
First up, let's just say that there are some minor spoilers for The Walking Dead here, both the comic and the AMC TV Series, but in either case, this scene is from very, very early in the series and doesn't really spoil all that much. Plus, you've already looked at the picture, so you might as well just read the context.
At any rate, this is what happens when Rick rides into Atlanta searching for his family like some crazy cowboy. He manages to make his way into town, but then stumbled upon a sizable pack of zombies. He manages to escape with the help of another survivor named Glenn, but the horse isn't quite so lucky.
The art here is absolutely fantastic. It reminds me a lot of the LEGO® magazine they send to kids (my son just got one a few days ago), only much darker. The figures are just detailed enough to look like real figures, which I really like. It's tempting to add a ton of detail to sketches like this, but this creation really works well with its LEGO® inspiration.
Let's Talk About the Zombies
One more thing I really dig about this: the zombies here are clearly inspired by/modeled on the Series One Collectible Minifig. That's just fantastic.
Have you seen a great zombie creation out on the web? Are you working on the next great zombie MOC as we speak? Well you had better let us know right away, otherwise we'll never be able to include it here.