There's a lot of zombie stuff out there, and most of it is crap. People like to jump on bandwagons and produce quick tie-ins rather than investing love and effort into their creations. Luckily for you, I'm here to help separate the wheat from the chaff. Check back every Thursday, when I'm going to share the coolest zombie-related creation I can find out there on the web.
The Zombie Creation:
This week's creation, "Cellblock" by Ryan (this submission came in via email), is a combination of fantastic building with outstanding photography. This is a recreation of the cellblock from AMC's The Walking Dead, and it looks absolutely amazing.
So What's Going On?
Here we see Rick and company clearing out the cellblock to be re-inhabited by the survivors. As they make their way through the prison, they are lit from above by large windows. This gives the scene an incredible realistic look.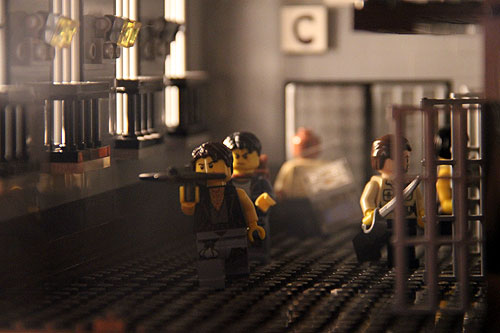 One thing I find interesting here is that Ryan is only using LEGO® elements. There are no BrickArms/Forge/etc elements here, which lends a classic feel to this creation. I'm no purist myself, but I like seeing the different solutions people come up with, such as a brick-built riot-shield for T Dog.
Here's a shot without any minifigs so you can get a sense of the scene: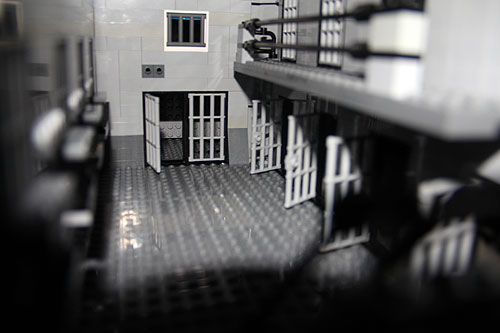 Ryan said it took him about three hours total to complete this, including building the set, building out the characters, and getting the lighting just perfect. It would have taken me significantly longer, and looked half as good. Here's a shot that shows how he had things setup: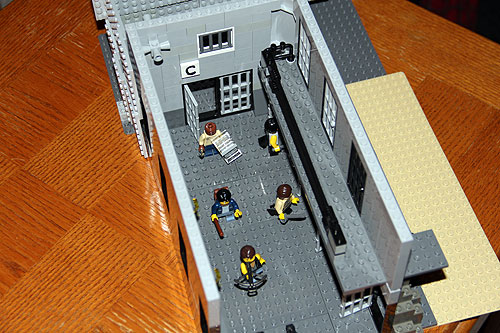 Let's Talk About the Zombies
While there are no zombies in this scene, we certainly know what they look like: slow and shambling, and with amazing practical effects and makeup.
Since there's no zombies in this creation, here's another one Ryan did with Michonne and her undead companions to sate your hunger for zeds: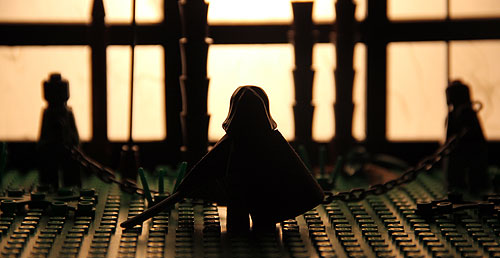 Have you seen a great zombie creation out on the web? Are you working on the next great zombie MOC as we speak? Well you had better let us know right away, otherwise we'll never be able to include it here.