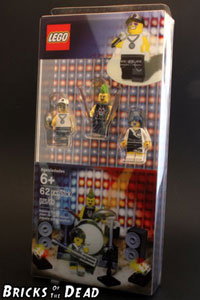 We recently reviewed the Halloween accessory pack and, despite the price tag, I had given it a high mark. Today we take a closer look at another Minifigures pack: the Rock Band.
Official set description:
Set #: 850486
Pieces: 62
MSRP: $14.99
Put together your own LEGO® Rock Band!
Put your LEGO® Rock Band in the spotlight and get ready to make some noise! Build a concert scene with a small drum set, speakers and spotlights then, drum roll, please, let the show begin! Includes 58 elements and 3 minifigures in rocker gear.
The Package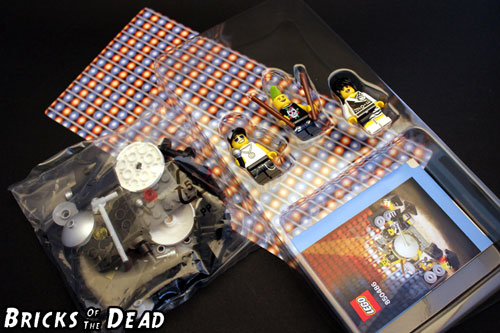 Just like the Halloween pack, this set is packaged in this new plastic cradle – yark. I really don't like this. I think it's a vivid example of over-packaging, something I did not think I would see done by LEGO®. It reminds me a bit of the sets they made back in the eighties, where the large boxes were divided into compartments – but still, the boxes were made of cardboard back then.
Anyway, back to the set; let's take a look at the parts: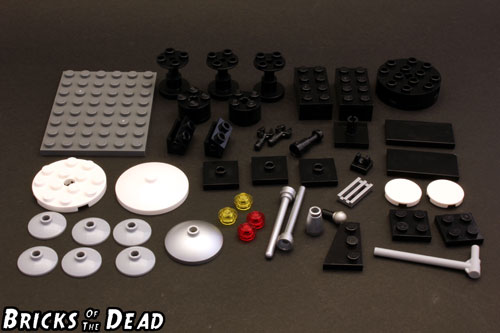 This may not be a very exciting selection but there are nevertheless a couple of interesting parts. First you have 3 black support stands, these may not be super useful but they remind me of the Classic Space era, when they were used as spaceship landing gears and I love to see that they still use them in sets today (yeah, I know I'm a child at heart). Then we have a couple of rare Metallic Silver pieces – I know it's a bit hard to tell from the pictures but you get 2 antennas (cool!) 1 3×3 dish and 1 1×1 cone.
The Build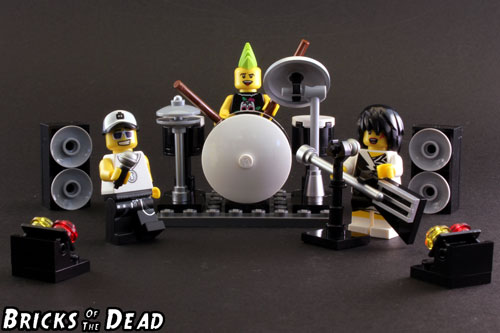 Not bad. Honestly the designer did a decent job considering the amount of bricks; it's small but convincing.
That being said, I do have some complaints on the parts usage. While it's nice to have a few metallic pieces in the lot, these also make the bley ones look even sadder. The cymbal stand for instance looks really weird; the Charleston could also have used another pair of Silver or Gold dishes. Then, we have the drumsticks – come on, these are just plain ridiculous, too long – wrong color, they just don't fit. The brick built guitar is debatable, the design is okay but it does not fit very well on the Minifigure and the scale is wrong. I would definitely have preferred to have an exclusive guitar pieces (which came with the collectible minifig).
The Minifigures

It seems LEGO® has decided to exploit their Collector Series design as much as they can. Same prints, different colors, I suppose it's always cheaper than coming up with entirely new designs… But I still like these, what can I say, I have caught the Minifigure virus(and you have to admit that the cap with the LEGO head design looks very cool in silver).
Now, I did have a few complaints about the set, but the good thing with LEGO® is that if there is something you don't like, you can always change it!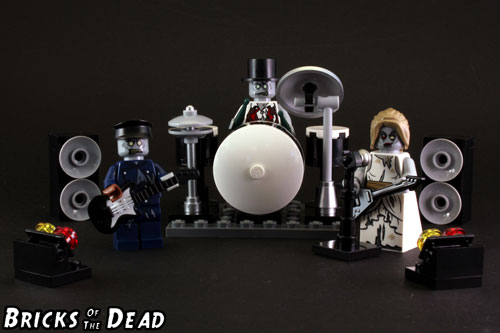 Now that's what I call a hell of a band… or is it a band from hell?
*The drumsticks and the guitar on the left are Brick Forge elements
Grade:

Buy the Rock Band Minifigure Accessory Set