There's a lot of zombie stuff out there, and most of it is crap. People like to jump on bandwagons and produce quick tie-ins rather than investing love and effort into their creations. Luckily for you, I'm here to help separate the wheat from the chaff. Check back every Thursday, when I'm going to share the coolest zombie-related creation I can find out there on the web.
The Zombie Creation:
This week's creation, "Zombie Walk" by Mike_K34, is a LEGO® zombie creation that goes in a little bit different direction than we're used to. Rather than actually building realistic scenes out of bricks, someone built realistic LEGO® out of cardboard (I say someone here because it looks like Mike_K34 was photographing the event, not necessarily responsible for building this thing).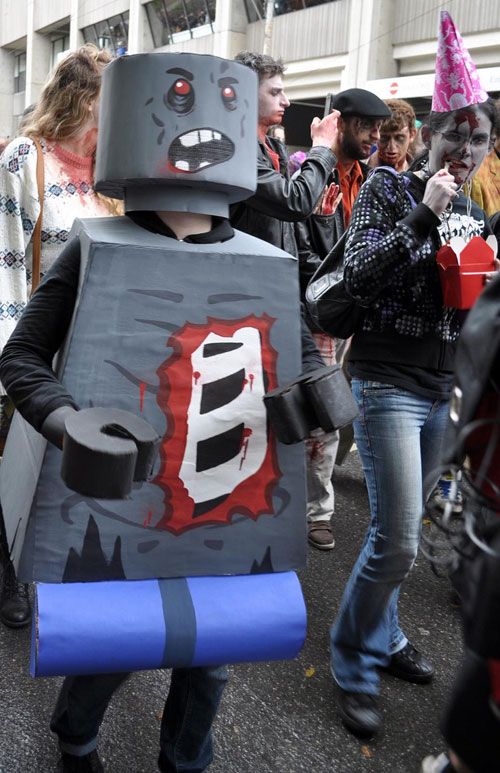 So What's Going On?
This photo was taken at a Zombie Walk. For those of you who aren't familiar with them, Zombie Walks are pretty much exactly what they sound like: a big group of people dressed as zombies who walk along a route to the delight of onlookers. These are often events that raise money for charity, like Zombie Walk Detroit, which I participated in for a few years. They're a hell of a lot of fun, even if you just go to watch.
Let's Talk About the Zombies
Well, the zombie here is a real person dressed up as a LEGO® minifigure who has been zombified. Layers upon layers, man.
The costume itself is quite interesting; it's always fun to see how the largely geometric minifig translates to the real world. I love that there's a LEGO® skeleton inside the LEGO® zombie. The top of the leg piece is also fairly inspired.
Have you seen a great zombie creation out on the web? Are you working on the next great zombie MOC as we speak? Well you had better let us know right away, otherwise we'll never be able to include it here.