As if it wasn't enough to tempt us with the Collectible Series, LEGO® just found another way to get us to buy even more Minifigures: they call these Minifigure accessory sets/packs, and it's going to hurt.
Official set description:
Set #: 850487
Pieces: 58
MSRP: $14.99
Go batty over the Halloween Accessory Set!
Scare yourself silly with the LEGO® Halloween Accessory Set! Build a haunted graveyard scene with creepy tombstone, rat, bat, spider and 2 snakes.
There are a lot of strange and unusual things about these new minifig sets.
First off, the box that is made of plastic. This is actually the only thing that really disappointed me here, come-on; think green guys!
Second, and that is perhaps the weirdest thing of all, the minifigures are already built! Sacrilege! I would not be surprised this to be a first in LEGO® history. What is even weirder is that the instructions actually tell you how to build the minifigs, while they are already built. LEGO® inception.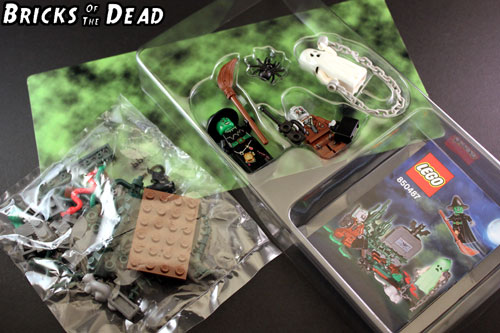 The list of oddities does not stop here but it's a little hard to explain because it is more a question of feeling. The paper of the instructions and the plastic bag are not the ones we are used to see in regular sets. I know, it may sound like a detail but to me LEGO® is a lot about touch and feel so I was actually surprised by these elements.
The Parts
It's an excellent selection. The dark green plants, dark grey bricks, the animals: all kinds of win.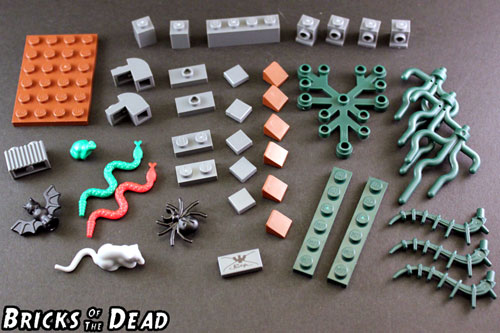 The highlight is definitely the printed "RIP" tile. While I would not exactly consider it a part of the set, the greenish printed cardboard that comes with the box is actually a nice element, one I will save and try to use as a MOC backdrop one day.
The Build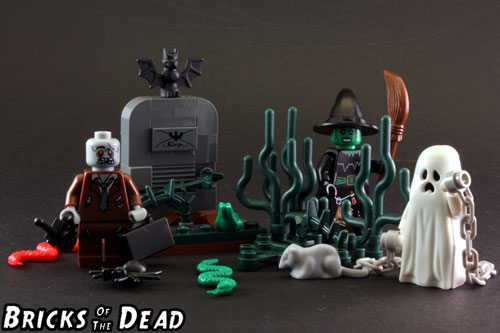 I just love LEGO. Again, this is a total win. With three minifigs and 42 pieces we get this convincing spooky little scene, brilliant. All these elements are great on their own and can be used in numerous creations.
The Minifigures
I won't dwell too much on the witch and the ghost. These are ok but nothing really special, the witch is an exact copy of the Collectible Minifig Series 2 and the ghost is the Monster Fighter new glow in dark mold available in several sets. The Zombie on the other hand is exclusive to this set. It is the same Minifig as the Collectible Minifig Series 1 Zombie but in a different color. I won't nitpick here, a change of color is good enough for me and this minifig is a welcome addition to the LEGO Zombie family.
Speaking of which, I think it's time to take a family picture!

One cannot but notice that in less than two years we have seen the release of a decent official LEGO® Zombie horde. What used to be a niche product of a couple of LEGO® customizers has now become a significant part of the official LEGO® line-up. Who would have thought that LEGO® would go down this road? As Dave recently brilliantly demonstrated in his "Zombie Illustrated History" the Zombie theme is more than ever mainstream. While LEGO® may have their own questionable stance on violence and ethics, it is a business above all… and they have clearly not failed to notice the popularity of the theme. So… who's your favorite Zombie?
Grade:

Buy the Halloween Accessory Set