There's a lot of zombie stuff out there, and most of it is crap. People like to jump on bandwagons and produce quick tie-ins rather than investing love and effort into their creations. Luckily for you, I'm here to help separate the wheat from the chaff. Check back every Thursday, when I'm going to share the coolest zombie-related creation I can find out there on the web.
The Zombie Creation:
This week's creation, "Maybe Time for a Barbe" by Project Azazel (whom I believe we've featured here before), draws influence from one of the most popular zombie works out there: World War Z.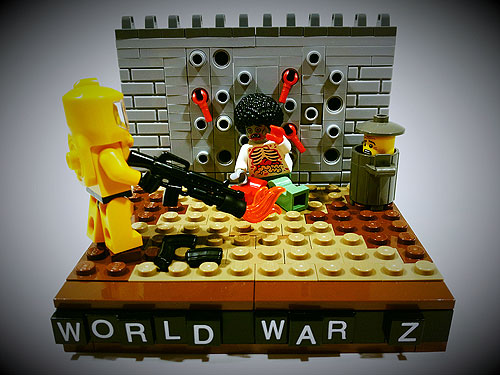 So What's Going On?
As one survivor couragously hides in a trashcan, another comes to kick ass and take names while wearing a NBC suit and carrying a rifle with a flame-thrower attachment. I guess it would be easier to be confident if you were lugging around a flame thrower that could also send rounds downrange in a pinch.
One of the things I like about a lot of Project Azazel's work is how it's framed up like a diorama, complete with a handy identifying title at the bottom (seriously, check out the photostream for loads of examples in a variety of different builds). I can't say I'd like every MOC to do  this, but it's something that helps differentiate him a bit.
Let's Talk About the Zombies
Since this is cleary inspired by World War Z, I think we can safely assume the zombie here is of the slow and shambling variety, although even shambling looks like it would be a problem for this pathetic creature, who sits – legs akimbo – and can only raise a furtive hand at his coming annihilation.
Have you seen a great zombie creation out on the web? Are you working on the next great zombie MOC as we speak? Well you had better let us know right away, otherwise we'll never be able to include it here.