Remember that free shipping and Zombie Car mini-set offer I told you guys about? Well I couldn't resist, and got the mini-set late last week.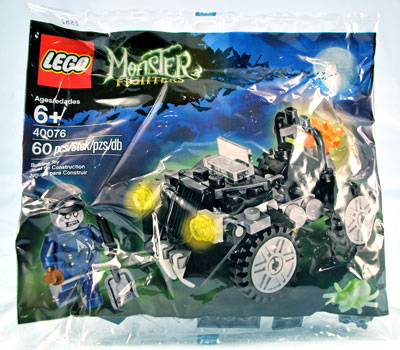 It's a pretty small set, at only 60 pieces, but when it comes for free I'm certainly not going to complain. Especially when it includes another much-coveted zombie minifig (I can simply never get enough of those).
The Parts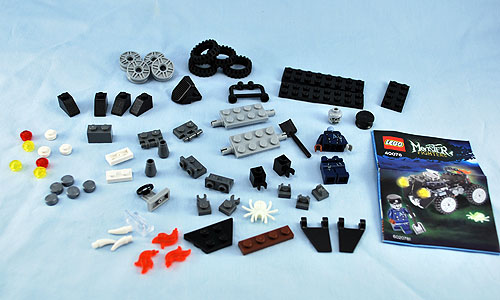 60 parts isn't a ton, but there are some pretty great pieces mixed in here. Aside from the zombie, whom we'll get to in a bit, you also get a few pretty sweet parsts:
5 of the new round tiles
3 small flames
A glow-in-the-dark spider
2 new SNOT pieces
3 white spikes/teeth
Not a bad haul, all things considered.
The Minifig
But of course, the real reason people are interested in this set is because it comes with a zombie. It's not a unique zombie, unfortunately. This same guy shows up in two other sets: The Vampyre Hearse
and The Zombies
, the latter of which I will review soon. That said, it's still a zombie and zombies are fantastic, especially in LEGO® form.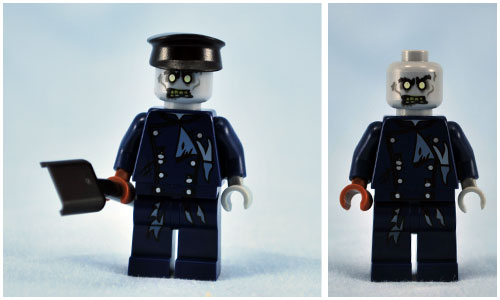 The zombie driver is quite a cool figure. His torn-up uniform has an old-school feel to it, like everything in the Monster Fighters theme, but it still fits in perfectly in a modern setting. The head is different from the previous zombies we've seen, sporting a more aggressive look. I'm hoping to get a couple of these to mix into my random assortment of zombie faces.
The Zombie Car
The set itself is a vehicle, which is a little disappointing, but not terribly surprising given LEGO®'s affinity toward vehicles. I would have loved to see a small building or rural scene instead, but I'll take what I can get.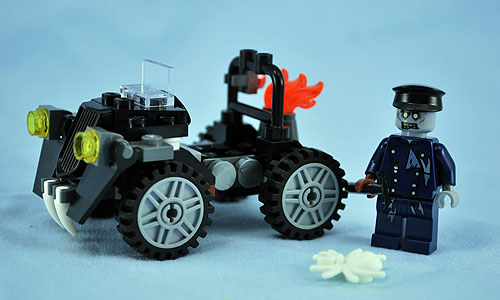 Luckily, the car is actually pretty darn cool. It's got a chopped-up, slapdash look to it. The front end looks like a more classic car (if you ignore the fangs), while the backend sports a roll-bar, flames pouring out of the exhaust, and a single brake light that looks like an afterthought. It's pretty cool.
There are also a few extra pieces, including an extra spike and an extra round tile: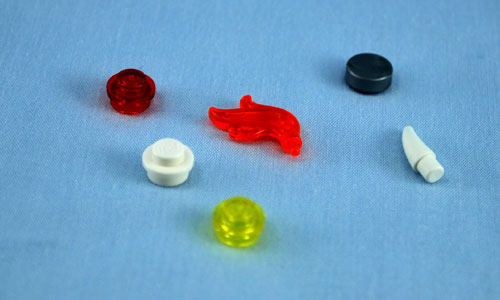 The Verdict
Is Zombie Car worth ordering $75 worth of LEGO® just to get? Probably not. However if you've been waiting to put in an order, it's worth bumping it up to the $75 to get this set (and the free shipping). The car is pretty cool, and I'll never complain about an extra zombie minifig.
Especially for free.
Grade: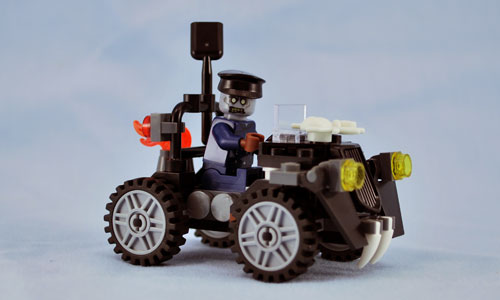 The offer is still good until September 21st, so don't miss out.