There's a lot of zombie stuff out there, and most of it is crap. People like to jump on bandwagons and produce quick tie-ins rather than investing love and effort into their creations. Luckily for you, I'm here to help separate the wheat from the chaff. Check back every Thursday, when I'm going to share the coolest zombie-related creation I can find out there on the web.
The Zombie Creation:
This week's creation, "Zoombie" by R D L, is quite the whimsical scene. You know, if you don't pay attention to the little things like the reanimated corpse chasing down a terrified man. At any rate, it's whimsical. Beyond that? Well, it's all right there in the title.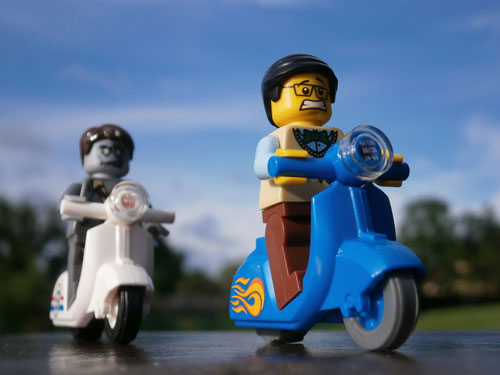 So What's Going On?
There has always been one thing we've had over the zombies: the ability to use vehicles to get the hell away (okay, so technically we have a lot of advantages, just bear with me here). But in "Zoombie", the dastardly zeds turn the tables on us by doing one thing we never thought they were capable of: mobilization. That's right, we're seeing a zombie on a moped. The horror, the horror.
I really enjoy creations like this, where someone takes a handful of pieces and stages them in the real world so that everything appears to scale. It looks like such a simple thing – there's really not much going on in the photo – but you rarely see it done so well.
Let's Talk About the Zombies
The zombie here, aside from his method of transportation, appears to be your typical Romero-style shambling corpse. You don't see a lot of detail, what with the shallow depth of field and all. What you do see, however, is dogged pursuit of prey, and that's something I think we can all appreciate in a zombie.
Have you seen a great zombie creation out on the web? Are you working on the next great zombie MOC as we speak? Well you had better let us know right away, otherwise we'll never be able to include it here.