There's a lot of zombie stuff out there, and most of it is crap. People like to jump on bandwagons and produce quick tie-ins rather than investing love and effort into their creations. Luckily for you, I'm here to help separate the wheat from the chaff. Check back every Thursday, when I'm going to share the coolest zombie-related creation I can find out there on the web.
The Zombie Creation:
This week's creation, "World War Z" by Project Azazel is inspired – obviously enough – by the Max Brooks faux-oral history novel by the same name. This creation promises to be only a small hint of things to come, so here's hoping we get some full scale, Battle of Yonkers madness from Projext Azazel in the near future.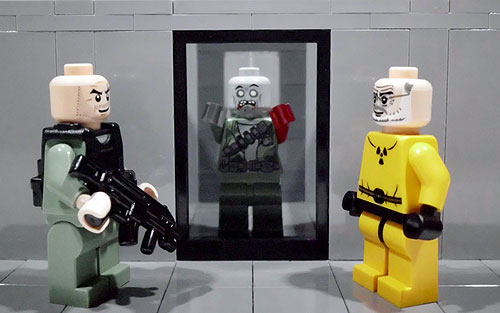 So What's Going On?
Well, not a hell of a lot to be honest. We see two men, a soldier and someone in a bio-hazard suit, having a casual conversation, with a zombie in the background, pounding uselessly on the safety glass. The build is pretty unimpressive, but I really like the simplicity of the layout and staging here.
My only complaint (outside of the fleshies, of course) is that none of the figures have hair. I guess they all might be bald, but you generally don't run into that many bald people. And I say this as a man who shaves his head.
Let's Talk About the Zombies
The zombie here is based on Brooks' World War Z, so we know it's a classic, Romero-inspired shambler. I really love the touch of using a red hand on the figure. Not only does it give us an interesting idea of how he got infected, but the color draws your eyes straight to the zombie, even with the bright-yellow hazmat suit in the foreground.
Have you seen a great zombie creation out on the web? Are you working on the next great zombie MOC as we speak? Well you had better let us know right away, otherwise we'll never be able to include it here.