There's a lot of zombie stuff out there, and most of it is crap. People like to jump on bandwagons and produce quick tie-ins rather than investing love and effort into their creations. Luckily for you, I'm here to help separate the wheat from the chaff. Check back every Thursday, when I'm going to share the coolest zombie-related creation I can find out there on the web.
The Apocalypse Creation:
This week's creation is brought to you by a fellow named Nannan Z of The Brothers Brick in a collection of photos called Beyond the Sky. The story revolves around year 2017, post apocalypse.  But letting the creation speak for itself we can a ruined building and a man scavenging for parts inside a warehouse or some other factory.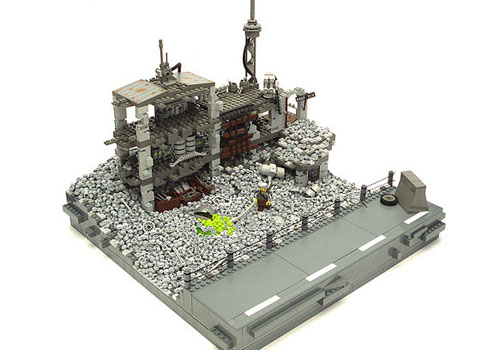 While initially you see a mess of bricks on closer inspection you see ordered and purposeful chaos. What we're seeing a lot of here is 1×1 round plates draped over the creation giving it a rubble look.
What is particularly nice about this creation is the contrast in color use. The solemn use of gray hives the apocalyptic look. It clearly shows us the familiar look of an abandoned building as we have all likely seen. The planks you see in the back shows what what once some sort of bridge giving you a hint of whatever the building once was.
My favorite aspect of this MOC is using the trans clear neon yellow below.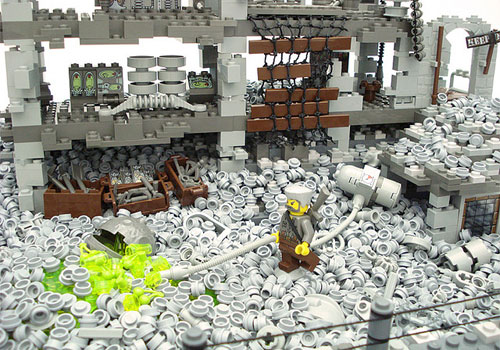 Right bind the yellow you will see a cracked sphere showing where the yellow came from. Holding some tubes connected to a machine in the back you can see he is cleaning up the chemicals spill and doesn't look too pleased with the chore. Poor fellow, as if life post apocalypse isn't hard enough you now have to deal with space garbage.
Have you seen a great zombie creation out on the web? Are you working on the next great zombie MOC as we speak? Well you had better let us know right away, otherwise we'll never be able to include it here.