There's a lot of zombie stuff out there, and most of it is crap. People like to jump on bandwagons and produce quick tie-ins rather than investing love and effort into their creations. Luckily for you, I'm here to help separate the wheat from the chaff. Check back every Thursday, when I'm going to share the coolest zombie-related creation I can find out there on the web.
The Zombie Creation:
This week's creation, "Skyrim" by Awk' is based on the video game of the same name. It features a zombie (a Draugr, actually, but more on that in a bit) in a Medieval setting. Now, I'm a total sucker for mash-up like that (although this is totally based on what happens in the game), but I'm featuring it here because it's also an awesome build.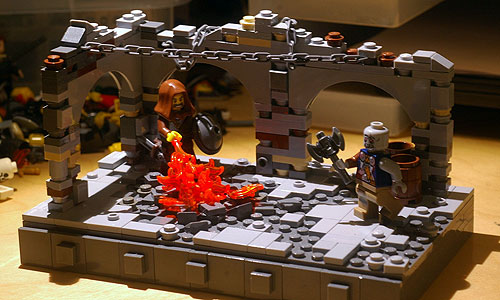 This was just a quick build/photo. I wish it had been lit and staged a little better, because there's a lot of cool details here. I really love the decayed architecture in the background.
So What's Going On?
In the game, Draugr are undead Nordic warriors. They can use weapons and have some intelligence, but are still more or less zombies. Here we see some sort of wizard fireballing the holy hell out of the room to take out the zed before it gets too close.
Let's Talk About the Zombies Draugar
Okay, so Draugr, not zombie, but still. Draugar (that's the plural) are,quite literally, those who walk after dead. In Norse mythology, Draugar live in the graves of the dead and protect the treasures found within from would be treasure hunters. Besides being able to use weapons and having some mental faculty, the Draugr has some other differences from your run of the mill zombie, the first being superhuman strength. They are also said to be able to use magic. Want to know more? Check out the entry on Wikipedia. It's quite interesting.
Have you seen a great zombie creation out on the web? Are you working on the next great zombie MOC as we speak? Well you had better let us know right away, otherwise we'll never be able to include it here.