There's a lot of zombie stuff out there, and most of it is crap. People like to jump on bandwagons and produce quick tie-ins rather than investing love and effort into their creations. Luckily for you, I'm here to help separate the wheat from the chaff. Check back every Thursday, when I'm going to share the coolest zombie-related creation I can find out there on the web.
This week's zombie creation, "ZPoc is coming" is by a fellow named MUD who is an admin for the Facebook group "Lego Zombie Outbreak." If you're not a fan of theirs then you need to add them post haste.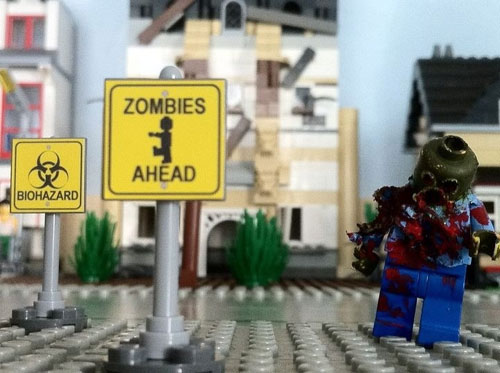 Right away, just past the street signs, you'll notice the zombie who is in pretty bad condition. Poor fellow hasn't had a very good run in the apocalypse and is certainly in bad shape.
Obviously this is a custom zombie and not some overpriced mini-fig bought from some store. MUD made this zombie himself and I think it looks just great. If I am not mistaken he used something like a hot nail to make the bullet holes and used vinyl model paint for the rest. If you have ever shopped for custom zombie LEGO® you can understand the desire to make them yourself and with results like this its a job well done.  With the posture of the zombie you can just imagine someone off to his right firing away at him . If you notice he is leaning away from the side where most of the damage is from the bullets as if the rounds are knocking him off balance. Nice touch there, MUD.
Not to be missed are the buildings in the background. They look boarded up, as one would expect should the world find itself will shamblers roaming about. I do wish the distance between the zombie and buildings were a bit closer as I think it would add a lot to this MOC but other than that this is a spectacular job.
Have you seen a great zombie creation out on the web? Are you working on the next great zombie MOC as we speak? Well you had better let us know right away, otherwise we'll never be able to include it here.