There's a lot of zombie stuff out there, and most of it is crap. People like to jump on bandwagons and produce quick tie-ins rather than investing love and effort into their creations. Luckily for you, I'm here to help separate the wheat from the chaff. Check back every Thursday, when I'm going to share the coolest zombie-related creation I can find out there on the web.
This week's creation, "The Road" by Yatkuu (badass MOCers and all around cool guy), is take on one of my favorite books of all time, Cormac McCarthy's The Road. If you haven't read it yet, do so. Seriously, I cannot recommend it highly enough.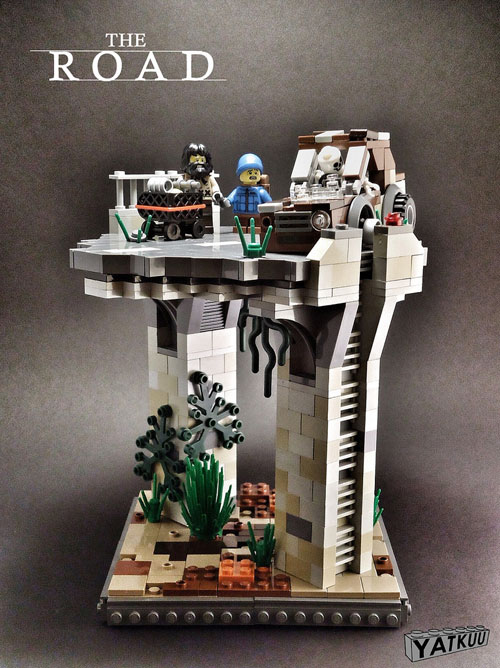 So yeah, Yatkuu knocks another one right the hell out of the park with this one. There aren't any zombies here (or in the novel, but whatever), but we do get to people in a desperate fight for survival in one of the harshest world's imaginable. Even if you haven't read the novel or seen the film, you get a very clear sense of what's going on here: a father a son scraping by in a world that's crumbling into dust.
Yatkuu packs a ton of detail into a tiny 16×16 creation (HINT!), with a massive freeway overpass towering over the overgrown roadbed below. On top, our heros trudge along, pushing a shopping cart containing their only supplies along a broken road, stearing clear of burned out car wrecks and the dessicated remains of the drivers.
I love everything from the photography, to the build, to the color scheme on this one, but my favorite thing here is how well he captured the characters with his selection of minifigs.
Have you seen a great zombie-related creation out on the web? Are you working on the next great zombie MOC as we speak? Well you had better let us know right away, otherwise we'll never be able to include it here.