There's a lot of zombie stuff out there, and most of it is crap. People like to jump on bandwagons and produce quick tie-ins rather than investing love and effort into their creations. Luckily for you, I'm here to help separate the wheat from the chaff. Check back every Friday, when I'm going to share the coolest zombie-related creation I can find out there on the web.
This week's example, "Walking Dead LEGO®" by familiar face Retrogarde, proves that you don't need a couple hundred thousand bricks to make a pretty damn compelling zombie MOC (that may or may not be a hint).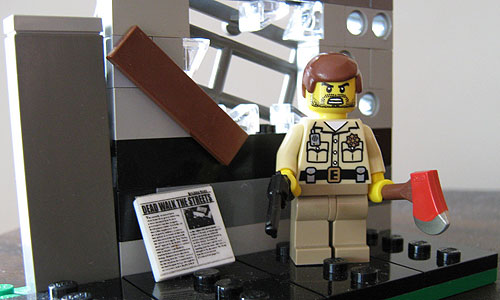 And here it is again in black and white because I think that's fun.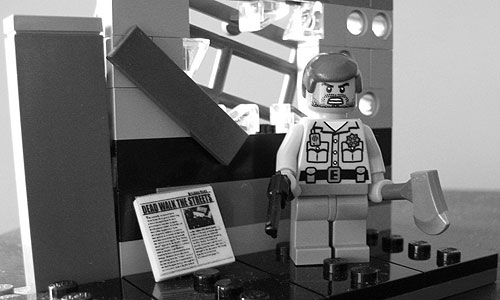 Retrogrades awesome creation utilizes a number of simple techniques to tell a really great story. In fact, you can get a lot out of this even if you've never heard of The Walking Dead in its various iterations. If I had to pick a favorite, I'd probably go with the slivers of broken glass hanging in the remains of the window casement, but the bullet holes and quick wood/metal grating barrier are also tops.
Also of note: a prop from another fantastic zombie comic with which I think you're all familiar.
Have you seen a great zombie-related creation out on the web? Are you working on the next great zombie MOC as we speak? Well you had better let us know right away, otherwise we'll never be able to include it here.