There's a lot of zombie stuff out there, and most of it is crap. People like to jump on bandwagons and produce quick tie-ins rather than investing love and effort into their creations. Luckily for you, I'm here to help separate the wheat from the chaff. Check back every Friday, when I'm going to share the coolest zombie-related creation I can find out there on the web.
This week's creation, "Zombie Apocalypse Base" by ~Amadgunslinger~, is damn impressive. According to the notes on Flickr, it took three weeks to put together, and the effort surely shows: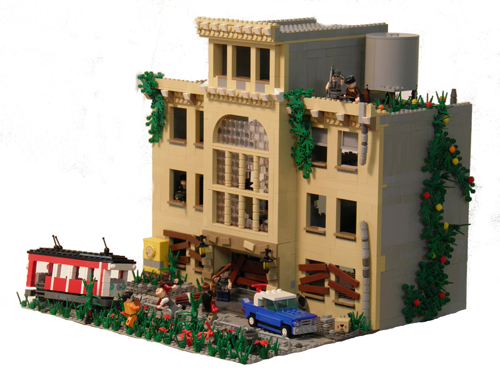 The building is the ruins of The Royal Hotel, and it definitely looks like it would have been a beautiful place before the world went to hell.  There are loads of fantastic details here, from the wrecked trolly out front, to the creeping vines and overgrown grass, to the broken out windows. The fact that the windows and doors on the bottom floor are boarded up, while the upper floors aren't is an especially nice tough.
No real criticisms here; this thing is incredible. I just wish there were more photos to dive through.
Special thanks to CallMePieOrDie for bringing this to my attention.
Have you seen a great zombie-related creation out on the web? Are you working on the next great zombie MOC as we speak? Well you had better let us know right away, otherwise we'll never be able to include it here.