There's a lot of zombie stuff out there, and most of it is crap. People like to jump on bandwagons and produce quick tie-ins rather than investing love and effort into their creations. Luckily for you, I'm here to help separate the wheat from the chaff. Check back every Thursday, when I'm going to share the coolest zombie-related creation I can find out there on the web.
The Zombie Creation:
This week's creation, "The Walking Dead" by diegoboy, is another fantastic creation inspired by the show and comic, The Walking Dead. I'm a fan of The Walking Dead, but I'm a much bigger fan of all this great stuff it seems to be inspiring lately.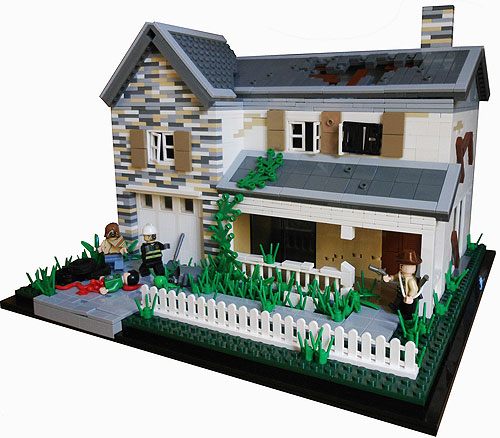 So What's Going On?
Well, as we can see a survivor – presumably Rick based on the hat – is facing down a couple of zombies on a once beautifully landscaped suburban yard. Now, everything is overgrown and the house is broken.
The build quality here is incredible, especially the flagstone-effect on the gable-end of the house with the attached garage. The blend of colors is so well done that, from a distance, it looks real. And once you get a closer look, so can see the house has fallen on hard times. There are bullet holes, broken windows, shutters than hang lifelessly, and a massive hole in the roof. This is great example of doing decay right. The house is still mostly great looking, but the damage it has sustained in the zombie apocalypse is slowly taking over.
Let's Talk About the Zombies
Since this is based on The Walking Dead, I think we can safely assume that these are shambling zombies (I still refuse to call them "walkers"). I like that diegoboy used a variety of faces on his zeds to give us some variety.
Have you seen a great zombie creation out on the web? Are you working on the next great zombie MOC as we speak? Well you had better let us know right away, otherwise we'll never be able to include it here.