LEGO Zombie Creation: The Streets of Paris
on
February 7, 2013
at
12:00 am
There's a lot of zombie stuff out there, and most of it is crap. People like to jump on bandwagons and produce quick tie-ins rather than investing love and effort into their creations. Luckily for you, I'm here to help separate the wheat from the chaff. Check back every Thursday, when I'm going to share the coolest zombie-related creation I can find out there on the web.
The Zombie Creation:
This week's creation, "The Streets of Paris" by ∆TMM∆, is one of the coolest post-apocalyptic scenes I've found in a while. It's also huge, which makes for challenging photography. I think he/she did a pretty solid job of showing off most of the cool stuff here.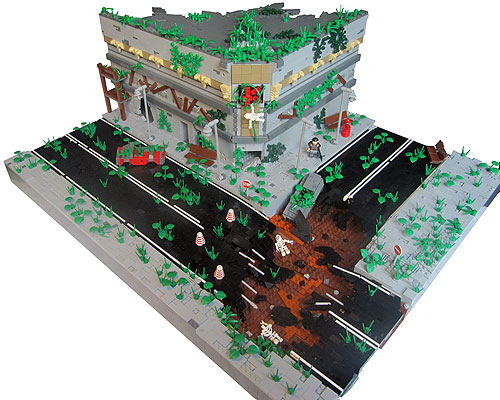 So What's Going On?
We get a streetscape in Paris, some time after some sort of apocalyptic event (I'm going to assume zombies).  It hits all the highlights I've grown to expect in post-apocalyptic creations: a muted color scheme, copious damage, bodies, and plant life slowly creeping in an taking over. It's hard to choose which feature I like better, the collapsed street, of the building that is slowly yielding to nature. Luckily for me, I don't have to choose.
Let's Talk About the Zombies
While the cause of the apocalypse isn't explicitly, I like to assume that all this destruction was caused by a wide-spread zombie outbreak. This was someone's last stand, and when they went out, they did so with a substantial amount of property damage on their resume. While we don't see any zombies, I'm sure there around somewhere. After all, the bones of those people have been picked clean.
Have you seen a great zombie creation out on the web? Are you working on the next great zombie MOC as we speak? Well you had better let us know right away, otherwise we'll never be able to include it here.