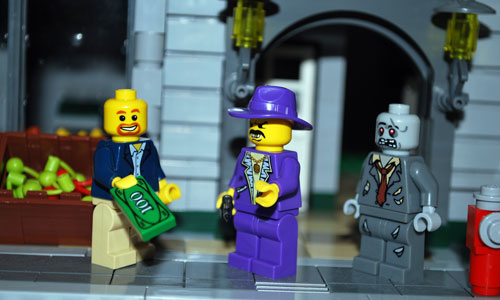 I didn't create Bricks of the Dead with the intention of retiring to a private island made of money with the profits. The comic was designed to entertain and inform the public about the very real threat of a zombie apocalypse. Of course there are some very real costs associated with producing such quality content, like website hosting, little plastic bricks, and contractors building my underground anti-zombie compound.
The good things in life may be free, but the guy running the cement mixer needs payment up front if he's going to pour the concrete for my subterranean command center.
So if you're enjoying Bricks of the Dead, consider making a small donation to help offset the costs and help keep this award-winning* comic in production.
So what do you get out of the deal? Well, other than a good feeling, not much. Higher donations (let's say north of twenty bucks) can get a cameo appearance in the comic if they're so inclined, however their cameo will almost certainly be devoured by the walking dead.
*Actual award may not exist