Editor's note: this review of AMC's The Walking Dead will contain some spoilers. I will try to keep them to a minimum, but they're be there nonetheless. You've been warned.
While not a lot really happen in this weeks The Walking Dead, it did focus on two characters I find extremely interesting: Dwight and Eugene. It also gave us a bit more insight into what the society of the Saviors is like. I'm calling that a big win.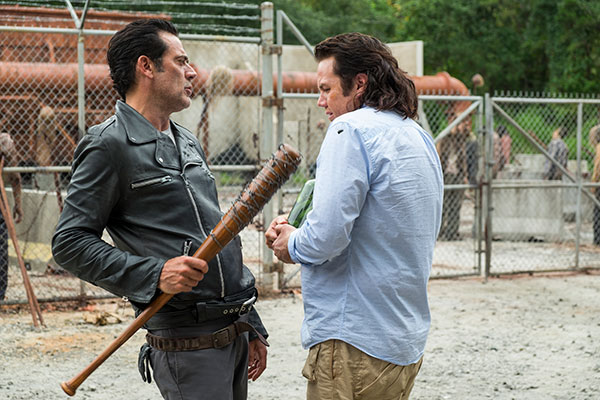 We'll start with Eugene, since his story was a little more static than Dwight's. You may recall that poor Eugene was kidnapped back before the mid-season break, right after the failed assassination attempt on Negan. I didn't think too much about it at the time, but this was actually a pretty clever move on the writers' part. It gives us another look at the Saviors, but this time with a much less confident and capable person than Daryl.
Let me get this out of the way: I like Eugene. I think he's a great character. I love his ridiculous haircut, and his cargo shorts, and the cadence of his speech. He's one of the more interesting and fully formed people on the show. A big part of that is the fact that he isn't capable of protecting himself, and has to keep himself safe in other ways, generally by aligning himself with one of the stronger characters. He's also got some secrets, particular in just what his education and job history was before the zombie apocalypse. He talks a big game, but it's obvious that he's lying. Despite that, he is quite knowledgeable, so there's at least some truth in his story. He's an intriguing character.
Because of all this, Eugene isn't out of his element for too long in the Saviors' camp. Sure, he's scared out of his mind, but the rapidity at which he becomes comfortable is absolutely hilarious. One second he's cowering and crying, the next he's putting in an order for food and rejecting the potato chips because they're kettle style.
The big thrust of the episode is how Eugene connects with Negan's wives, who attempt to manipulate him into making poison for them. They claim that it's for one of them to take her own life, but Eugene quickly sees through that to suss out that they're secretly trying to murder Negan. I loved seeing how they're efforts at first seemed to work on him, but quickly lost effectiveness as Eugene became more comfortable with his surroundings. By the end of the episode he had cast them off, and immediately declared that he was Negan.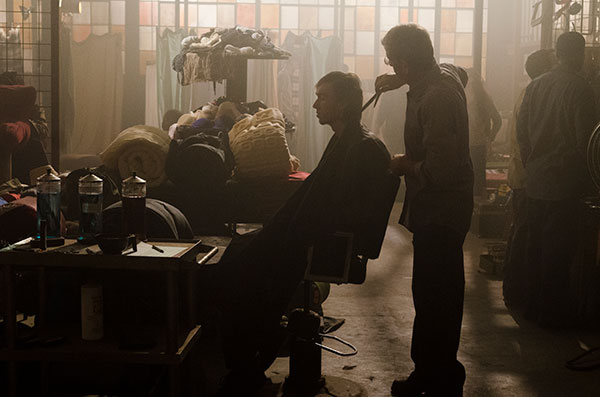 Dwight's story, on the other hand, was much darker. When the episode started, I assumed that we'd be getting two different timelines, one more or less in the present focused on Eugene, and one set slightly in the past focusing on Dwight, ending with his death. I'm glad to say that I was completely wrong about this.
Of course, things don't work out great for Dwight. Negan isn't happy about Daryl escaping, so he has Dwight beaten and thrown into the solitary cell for a bit. Dwight's ex-wife is also missing, and Negan quickly connects the dots. He gives Dwight the chance to make things right, though, sending him off to track down the missing woman.
Dwight immediately head's to their old house, where he finds a note from his ex-wife apologizing for turning him into the man his is now. It also makes several references to memory issues that Dwight apparently suffers from, which was interesting, but didn't play out in any meaningful way. We'll see if it comes up again later on.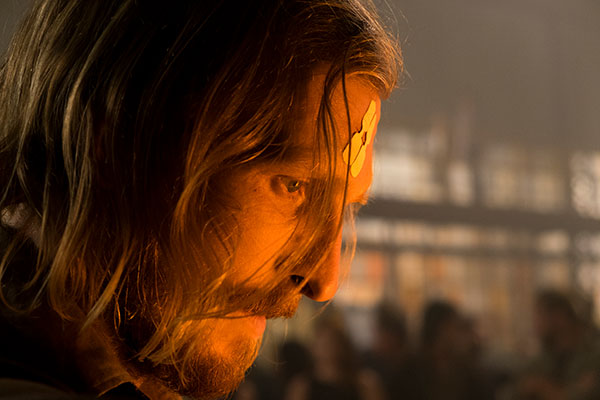 Dwight uses this time to take a measure of himself, and completely break from his old life. He smokes his last cigarette, stained with lipstick, presumably from his ex. He leaves the beer and pretzels her note suggested he would forget, and he let's her go.
Not only does he let her go, he sets up the Savior's doctor to take the fall by leaving a scrap of her note in his office for Negan to find, and concocting a story of how she confessed that the doctor helped her escape before she was killed by zombies.
Negan uses this for another gruesome public execution, but it seems like he doesn't actually believe Dwight's story. He simply accepts it as a means of turning the man into a loyal soldier.
Dwight and Eugene are both changes by the episode's end, but in different ways. The pacing of The Walking Dead can be frustratingly slow at times, but episodes like this make it worthwhile.
Grade: