Editor's note: this review of AMC's The Walking Dead will contain some spoilers. I will try to keep them to a minimum, but they're be there nonetheless. You've been warned.
This week's episode of The Walking Dead centered around yet another community of people who are taking a very different approach to survival. While it didn't seem to have a lot of meat as far as plot advancement goes, it was a pretty enjoyable episode for one reason: Tara.
I'm a pretty big fan of Tara for a number of reasons, not the least of which is because she's so damn relatable. Unlike most of the other characters who are fit and capable to a fault, Tara is much more of an everyday person swept up in an unimaginable crisis. The fact that she's generally happy, chipper, and more than a little awkward is icing on the cake. Seeing Tara bent over trying to catch her breath after running for her life was a great moment, because that's exactly what me and a good many other The Walking Dead viewers would be like in an actual zombie apocalypse. Assuming, of course, we weren't killed in the first few days of the chaos.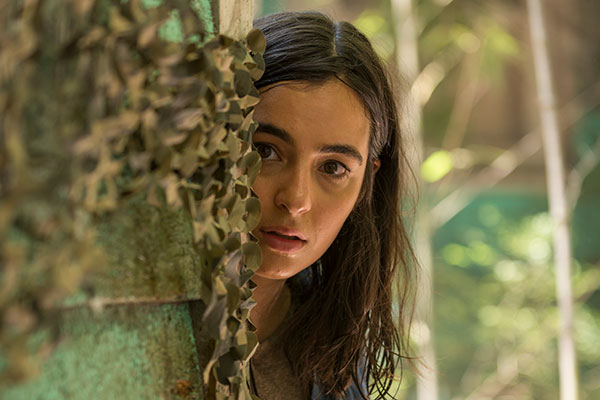 As I mentioned, "Swear" is fairly light on plot. The episode splits itself between two Tara-centric story lines. The first is in present time, with Tara being washed up on a beach, and the second is a flashback story detailing how she got there.
If you recall (I barely did), Tara set off with Heath last season after the raid on the Saviors' outpost. They're still palling around together, hunting for supplies. After finding a camp and accidentally unleashing a horde of zombies, the pair is separated. At first it appears that Heath leaves Tara to her fate, but subsequent flashbacks show he did his best to save her before she was pushed off a bridge and into a river.
From here, she's discovered by a woman and a child, the latter of whom wants to kill her, on the shore. They leave her food, water, and a weapon, and Tara sneaks after them once they leave. She discovers a small settlement peopled entirely by women and girls, who, as it turns out, are very trigger happy. After almost getting shot the same woman who helped her before, Cindy, saves Tara's ass again.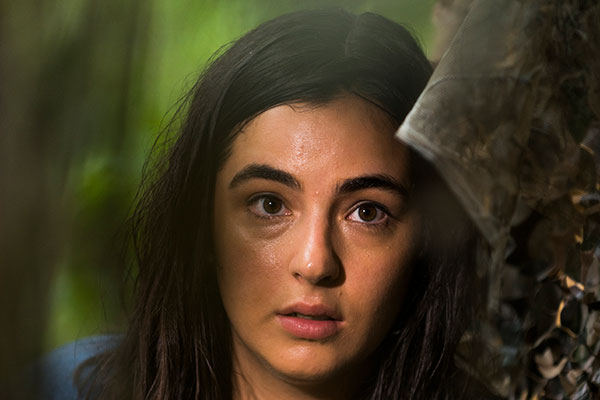 After some back and forth and getting chained to a radiator, the group agrees to let Tara find her way back to her friends in Alexandria, and they'll even send an escort with her. After all the talk about how this community usually murders all outsiders as a matter of course, it isn't terribly surprising when Tara's two experts try to do the same with her. Luckily, she makes a quick escape, and is later rescued – again – by Cindy when one of those escorts has her at gunpoint.
Of course that gunpoint scene is little more than an excuse to fill us in on some show lore. The reason this settlement is all women and children? Because the Saviors summarily executed every man and boy above a certain age. Anyone not see that coming?
Eventually, Tara and Cindy make it back to the bridge, kill some zombies, and Tara is off on her own once again. She finds Heath's broken glasses, a key card (we have the same kind at work), and a tire track. Not much to go on to find Heath. Undeterred she picks up some ugly sunglasses and a bobblehead for her girlfriend, and makes it back home.
And this is where she finally learns that her girlfriend is dead and the Alexandrians are now at the beck and call of Negan and his goons. That's a rough day.
Grade: