Editor's note: this review of AMC's The Walking Dead will contain some spoilers. I will try to keep them to a minimum, but they're be there nonetheless. You've been warned.
Well, the season has ended, and it ended on yet another gimmicky cliffhanger. I shouldn't be surprised, but it still irritates me. But I'm getting ahead of myself once again. Let's discuss the rest of the episode first, shall we?
I gave last week's episode of The Walking Dead one zombie head out of five, because I just hated it. It felt like the writers were raising the stakes by simply making our heroes dumber than they should be. It was lazy and betrayed the core competency of the characters, which has been a huge plot point since before they arrived in Alexandria. A lot of you guys disagreed with me, but I stand by it.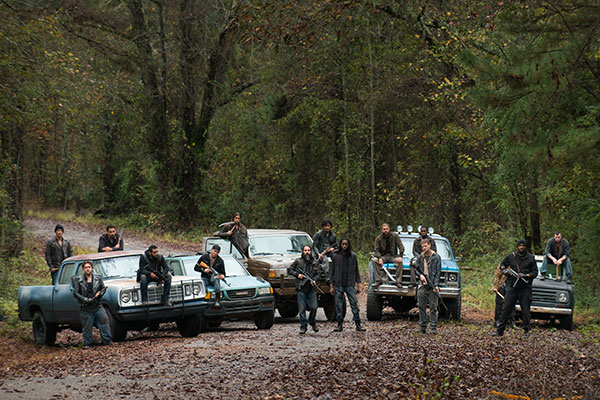 I am happy to say that "Last Day on Earth" was a bit better of an episode, if only because not all of the tension came from characters we know suddenly turning into idiots.
The big push this week is Maggie, a story line I ignored in my recap of last week's episode. She's in a rough spot, so the super friends assemble, load her into the RV, and make for Hilltop where there's a doctor. Unfortunately, they get stopped by a barricade setup by the saviors.
Rick tries to talk his way through, but that doesn't work, so they turn around and try another route. That route is also blocked, but by a bigger force. This continues for a while, with every route blocked by a bigger and more elaborate barricade.
Meanwhile Morgan finds a horse, which he knows how to ride, and Carol. He treats her injury, but she doesn't want his help. She leaves him, and is immediately set upon by one of the men who attacked her on the road. They fight, and he gets the better of her, shooting her in the arm and then the thigh to make her suffer like his friends she killed. He doesn't want her to die, which is odd considering that both of the places he shoots her have major arteries running through them, and Carol could very easily bleed out.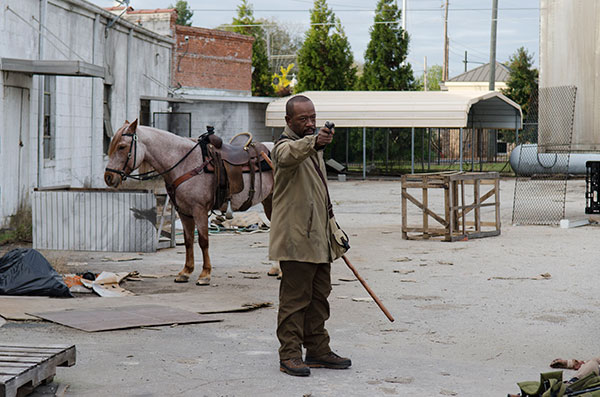 Luckily, Morgan sneaks up on them. On a horse. That's right, neither of them hears an animal with steel shoes weighing over a thousand pounds walking toward them. Moran then tries to negotiate, fails, and just shoots the dude. He kneels down to see to Carol, when two more guys sneak up on him. With another horse. These are the sneakiest damn horses I've ever seen. Luckily, the guys might not be hostile, and agree to help.
After running through an endless series of barricades, Eugene has the bright idea to send everyone through the woods while he drives the RV around as a distraction. This actually seems like a good plan, especially considering how incompetent the saviors have been so far this season.
It doesn't work out.
Our gang gets in the woods, and begins to hear whistling. They run, but the whistling gets louder, and it becomes very clear that they're being herded. It's an effectively creepy moment, one of the strongest The Walking Dead has had in a long time. Rick's swagger and bravado instantly evaporate, so we know they're in for some real shit.
The saviors have a spot in the woods all picked out, disarm our heroes, and then bring out everyone else they had captured previous. This includes Eugene, who must have been captured before he was even out of earshot of the others.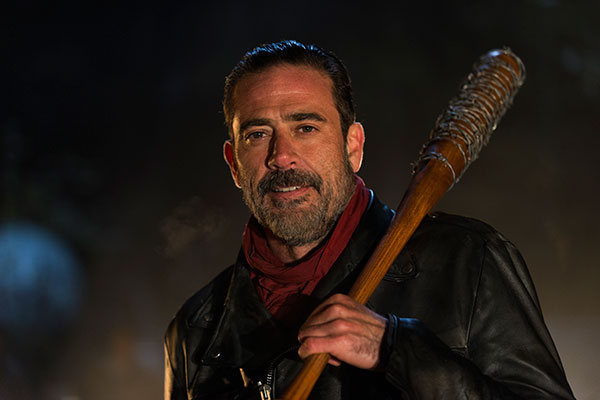 And then Negan finally shows up. I've been excited about this ever since I found out they had cast Jeffery Dean Morgan, who I like quite a bit. He was…okay, I guess? One of the first things out of his mouth was "Pee pee pants city", which is a rather underwhelming thing for a scary villain to say.
Then he talks. And talks. And talks. And talks. The longer this went on, the more I forgot about the creepy whistling and our people getting herded like cattle to the slaughterhouse, and it was a damn shame. Finally, he pulls out the bat and starts hitting someone, but we don't know who. We can be reasonably sure it isn't RIck or Carl because of what Negan says, which leaves a lot of people on the table.
The whole violent attack is shown first from our perspective, and then we only her sounds. The sound design is disturbing (nice work, foley guys), but it still felt like a massive cop out. Once again, the show hangs its hat on a gimmick to get people talking, and I'm pretty disappointed.
I'm even more disappointed considering how much this big kill was people teased for weeks and weeks. The actor who plays Rick said he was so disturbed he couldn't handle it. The producers said it would melt people's minds. And then they showed almost nothing.
Come on, The Walking Dead, be better than this.
Grade: