Editor's note: this review of AMC's The Walking Dead will contain some spoilers. I will try to keep them to a minimum, but they're be there nonetheless. You've been warned.
I'm just going to get this out of the way: this episode of The Walking Dead was a complete mess. I know that it's largely supposed to be table setting for next week's season finale, but it made for an incredibly frustrating hour of television.
It really bothers me when characters do things because that's what the plot needs, rather than due to their own motivations. Sure, the show does its best to offer up some semi-plausible explanations for things, but an astute watcher sees them for what they are: post hoc justifications.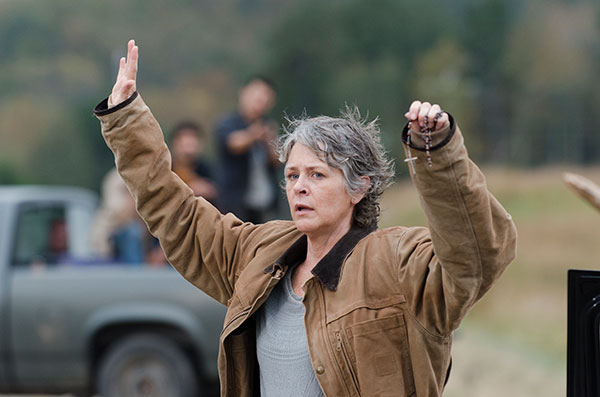 Rather than taking a look at the episode in a linear manner, I'm just going to jump around to the various things that bugged me. We'll start with Carol, since her brief arc was the strongest of the three, which isn't saying that much.
Carol left Alexandria because… well, that's not really super clear. We get the sense that she doesn't want to be too close to people, because then she might have to use violence to defend them. Of course, she also has to use violence when she's out on her own. It's almost as if she lives in a violent world.
Anyway, she does the scared, hyperventilation thing again before drawing down on the truckload of thugs who are harassing her. All the while we're treated to shot after shot of her rosary, which really started to bug me after a while. I get this this is supposed to be some sort of symbol, and that it suggests both that she's clinging to something for peace, and using it as a tool to get people to underestimate her. That's all fine and good, but it feels like we're being bludgeoned over the head with symbolism.
Carol isn't the only one to skip town. Daryl does the same, although in a much less sneaky manner. Glenn, Michonne, and Rosita see him leave, and decide that the best course of action is to immediately follow, telling no one but Abraham of their plans. Shortly after, Rick discovers that Carol is also missing, and he leaves with Morgan. That's now seven of the strongest people in the community gone without any sort of plan or means of communication. And we're supposed to believe that these people are such incredible survivors? I hate it when the show makes people stupid just to move pieces around the board.
Morgan and Rick don't find Carol, but they do pick up what might be her trail. There are more arguments about killing, and ultimately Rick leaves Morgan to find her on his own. Another flawless plan.
Michonne, Glenn, and Rosita find Daryl almost immediately, fail and talking him into coming back. In fact, Rosita decides to join him. Their half-assed rescue attempt a failure, Glenn and Michonne head back, only to be immediately captured by the Saviors. Daryl and Rosita appear ready to rescue their friends, except they're captured too.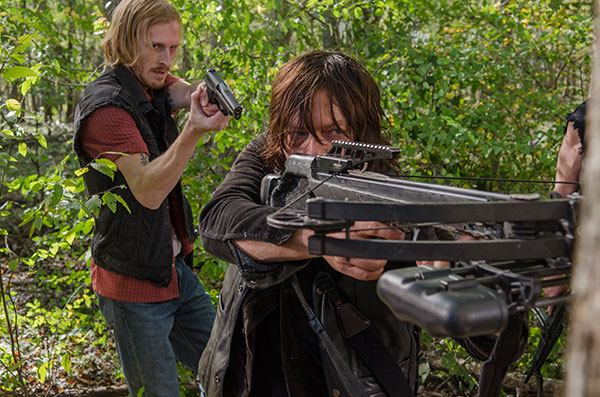 The episode ends with a gunshot and a splash of blood, making it look like a major character was just unceremoniously executed, but I'll believe that when I see the body.
"East" was a terrible episode filled with awful writing that absolutely mangled our characters. We're supposed to believe in these people and their abilities, so seeing them act so incredibly stupid is hard to swallow.
Grade: