Editor's note: this review of AMC's The Walking Dead will contain some spoilers. I will try to keep them to a minimum, but they're be there nonetheless. You've been warned.
Thanks to Dave for offering up a guest post spot. It's been awhile since I have done a post and I always love them!
I will start off this review by writing a bit about this season so far. If you don't want to read this part and go straight to the episode review, scroll down a bit.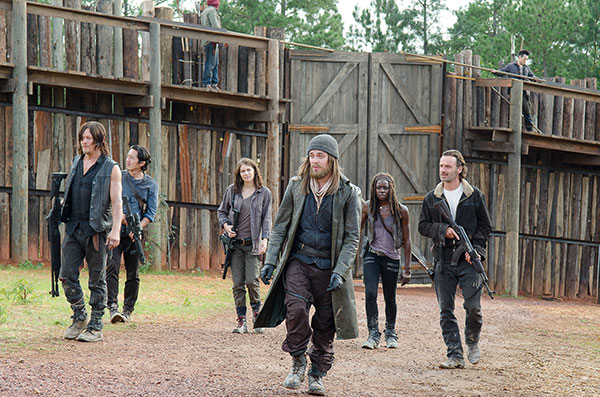 Season 6 has been at a frantic pace so far. Almost to the point where episodes are a bit stressful which is a grand achievement for a horror show. Since season 3 The Walking Dead has split the group up a bit featuring them in various story lines that weave back into the core story showcasing characters during their own episode. Season 6 has gone even further rarely showing the group together almost as if the current Walking Dead story line is a small set of short stories. I am not sure what I think about this yet but I suppose it's necessary for a TV show to evolve over time and change stay fresh. The core group dynamic is so interesting when they are together that while the overall story continues to get better, I do miss this part of the show.
There is something that "Knots Untie" does that is a microcosm of the current tread of storytelling in The Walking Dead. We suddenly have a fairly prevalent food shortage without a lot of ramp up. In the last episode they had a food run, but they have in many other episodes as well. Not it's a full blown crises in the next episode. In the early seasons they may have painfully ramped up to it and equally as painfully handled the issue through plodding problem solving stretching over several episodes.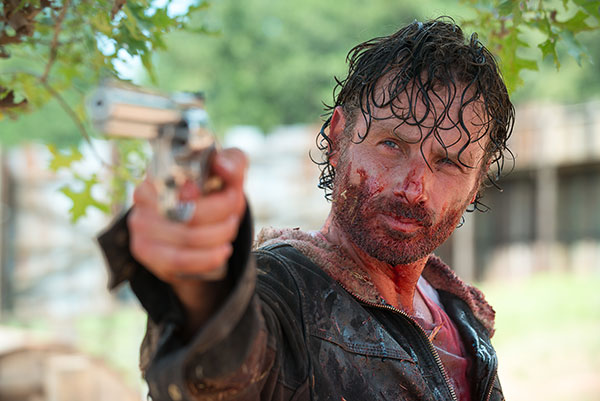 Episode 11 also introduced us to the concept of small civilizations sprouting up crammed inside small areas. We have seen this before of course with the Governor in season 3 and Season 5 with Terminus but this was a bit different. The Walking Dead is now showing small established communities with their own cultures. Not quite a city but the beginnings of one with trading as a functioning economy.
Things begin looking up but quickly fall down as one of the leaders (who is played by Xander Berkeley who seems to be type cast to forever play a scum bag in every role) makes some sexually aggressive passes at Maggie. This was a bit of a low point to me as it was a cliché mess that we have seen before.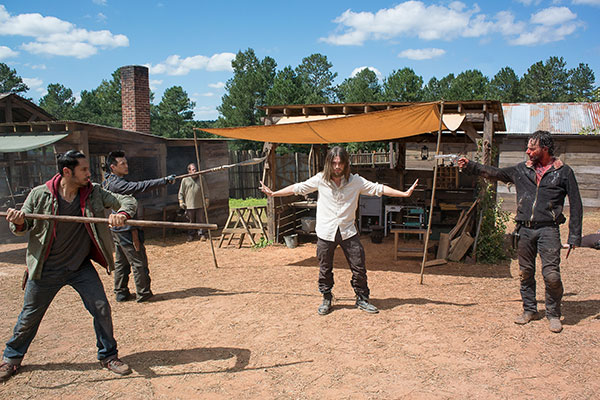 In the previews and ads for this season we have seen "A Larger World" and I suppose other communities are what they mean. Especially since it seems they aren't leaving the general area anytime soon. This is a nice story change although it's a bit unbelievable as the group is clearly in a low populated area so it's odd for them to suddenly run into these mini cities.
Overall this wasn't the greatest episode and in my opinion the low point of season 6. Good set up episode for future stories but a bit of a disappointment.
Grade: