Editor's note: this review of AMC's The Walking Dead will contain some spoilers. I will try to keep them to a minimum, but they're be there nonetheless. You've been warned.
It's been a long wait since the huge cliffhanger at the mid-season break, but The Walking Dead is finally back, and it returned in full force. A lot happened in "No Way Out". I'm not going to try to recap things, just hit a few of the high points and add my thoughts on them and the episode as a whole. The episode seemed pretty divisive, with a lot of critics not liking it, but most viewers loving it. I'm going to come down somewhere in the middle.
Let's start with the cold open, when Negan's goons have Daryl, Sasha, and Abraham at gunpoint. I thought this was a great little scene, and I really liked the spokesperson for the bad guys. He was unhinged in a way we haven't really seen before. It was like he was in complete control of the situation, but wasn't comfortable being in control. He wanted the chaos.
And then this happened: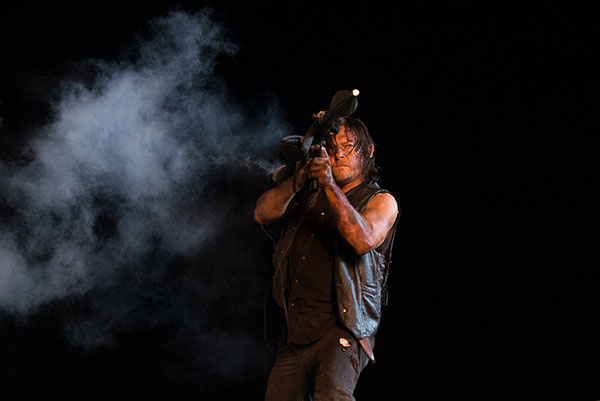 Okay, that photo is technically from later, but you get the idea. The Negan goons are no longer a concern. At least for the time being.
Meanwhile, in Alexandria, things aren't going well. We get a few different stories happening at the same time here, but I'm only going to talk about two of them: Denise and the Wolf, and Rick's group. We'll start with the former.
The Wolf ran off with Dr. Denise, but doesn't seem like he wants to murder her and wear her skin or anything like that. In fact, he actually protects her, getting bitten in the process. She convinces him to take her back to the clinic, where she will presumably amputate his arm, but it doesn't end up working out for him.
I'm not at all surprised that he was killed, but I did think it was interesting that the character seemed to have been turning over a new leaf. Morgan was right about him. Of course, the only one who knows this is Denise, so we'll see whether it comes up again, and how.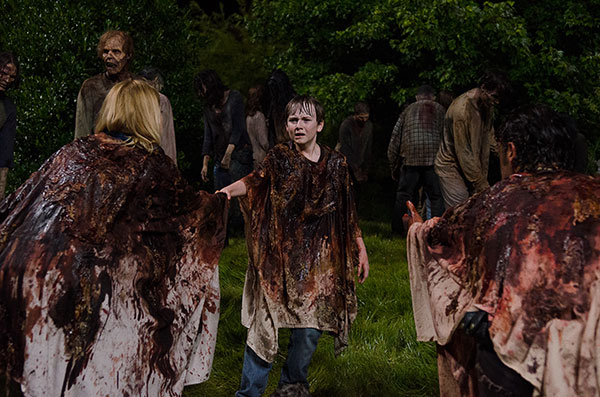 Rick's group doesn't fare very well at all. Gabriel splits off early, taking Judith to the church and somehow managing to not Gabriel that up. Sam stays with the group, even though everyone knows it's a bad idea. Then her freaks out and gets eaten. And then his mom gets eaten. Goodbye, hot soccer mom, we barely knew thee. Carl almost gets turned into collateral damage while Rick has an awkward series of flashbacks, but a quick mutilation later, and Carl is okay. Until he's not. Hot Soccer Mom's other kid picks up a gun and tries to kill Rick, only to get stabbed by Michonne. He still gets a shot off, however, and takes out Carl's eye.
The survivors quickly retreat to the clinic, where Dr. Denise gets to work on the permanently disfigured Carl. Rick, unable to cope with the trauma, decides to take on an army of a few thousand zombies all on his own. It's really stupid, but it's just the sort of stupid thing the rest of the town needs to inspire them. Soon, people have picked up improvised weapons are are wading into the zombie hordes, messily dispatching them.
Even with everyone working hard to cut down the zombies, it looks like they're still going to get overwhelmed by sheer numbers. And then Sasha, Abraham, and Daryl show back up with assault rifles and even the odds.
And then this happened: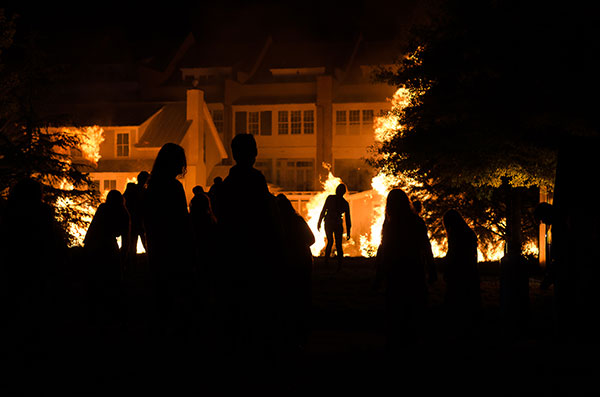 That's right; Daryl pumps some gas into the lake, touches it off with another RPG, and the majority of the zombie horde wanders in, getting incinerated in the process. Oh, and Carl wakes up.
I'll be clear about this: I really enjoyed the episode. It was fun, full of action. There were great set pieces, and some really well done zombie makeup and effects. That said, I was only able to enjoy it because I didn't let the stupidity get to me, and there was a lot of that on display.
I loved that the people of Alexandria were inspired to fight, but the way it happened was kind of dumb. If I saw one guy out there fighting thousands of zombies, I wouldn't say, "You know what? This guy knows what he's doing." I'd just shake my head and hope he died as painlessly as possible. The moment largely felt undeserved.
The solution, too, seemed a bit off. I get that zombies would be attracted to light and movement, but would they really abandoned prey to walk toward a light? And just keep walking into it as they burned? If that was the case, they should have just burned all the zeds in the quarry at the beginning of the season like a ton of people suggested.
Also, as cool as it was to shoot an RPG at the lake to touch off the gas, it was a bit wasteful. What's wrong with some matches or a lighter? Or use a flare gun if you want some more visual oomph.
But, like I said, I was really entertained by The Walking Dead. It was dumb and pulpy, but it was fun. As always, I'm curious about where we go from here.
Grade: