Editor's note: this review of AMC's The Walking Dead will contain some spoilers. I will try to keep them to a minimum, but they're be there nonetheless. You've been warned.
I'm going to do this review is a little differently. Rather than a recap with commentary, I'm just going to give my slightly disjointed thoughts about the episode, and the first half of the season in general. In an effort to keep things somewhat organized, I'll start with the stuff I didn't like, and close with what I did. Although there might be a bit of cross-pollination.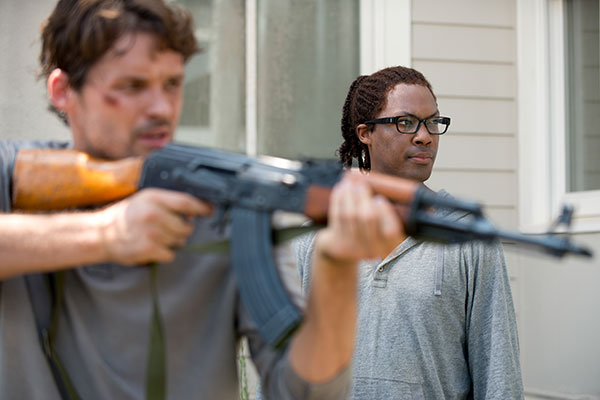 "Look, I get it. My dad killed your dad, but […] your dad was an asshole." I don't much care for Carl, or Coral if your prefer, but that line made me smile. I really don't get the conflict they're trying to setup with the teenage characters here, all of whom have terrible haircuts. Yes, I know that Rick killed the dumb kid's dumb dad, and that there's some sort of Enid love triangle going on, but… Okay, maybe I do get it. I just don't care. That probably the worse sin.
Rick's relationship with Jessie has been really weird as well. I liked the initial flirting, but Rick came off as a complete psychopath on a couple of occasion. Yes, Jessie's husband was abusive, but I just don't buy her falling in love with Rick. It's pat. It's just too convenient. It's like these two characters are romantically linked just because they're about the same age and are both good looking. Jessie should be completely creeped out by Rick. Lots of people should.
Speaking of which, I hate the way the show deals with anyone who isn't a core character and disagrees with Rick. They're always shown to be cowards, completely wrong, or, more often than not, both. Oh, and they also usually die shortly after they're proven wrong. This one really shatters my immersion in the world of The Walking Dead. Rick is frequently wrong, reasonable characters should recognize that.
And then there was the Glenn thing, but we've addresses that pretty thoroughly at this point.
Okay, those are the big negatives. Let's talk about what worked. Well, let's start with a big one: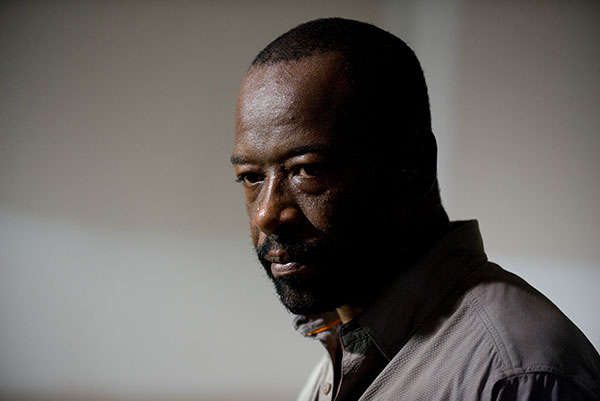 That's right, more Lennie James is always a good thing. This guy is such a good actor, he really elevates the show. I'm curious where they're taking his mission of pacifism. I'm not convinced it's working at the moment, but I'm willing to see where it goes.
I also loved the way they spent the entire first half of the season focusing on the zombies in the quarry and the way things spun out of control with the plan to coral them away from town went off the rails. It gave the season a lot more focus than other seasons have had to date, and it did so without resorting to a cartoonish villain like the Governor. That said, they did overdo it a bit stringing us along with the Glenn reveal, but that particular dead horse has been kicked.
Alexandria, as a concept, worked really well. The town felt real, and the way the characters began taking ownership of it an embracing its potential was really great. I thought Deanna played a big role in this, and it was a shame to see her character killed off. She made for a good foil to the other characters, particularly Rick. Her kids were pains in the ass though.
Building off Alexandria, I also really enjoyed the way they spent a lot of time focusing on the minutia of day to day survival. People getting into petty fights, stealing and hording supplies, worrying about maintaining some semblance of civilization by educating the kids. Again, this made the setting of the season feel much more real.
Finally, I feel like The Walking Dead has done a solid job, for the most part, on fleshing out some of the other characters on the show, particularly Michonne, Sasha, and Tara. They all got a few nice character moments, and I'm actually starting to like Michonne as a character now that she's showing a little personality rather than just being a cipher with a sword.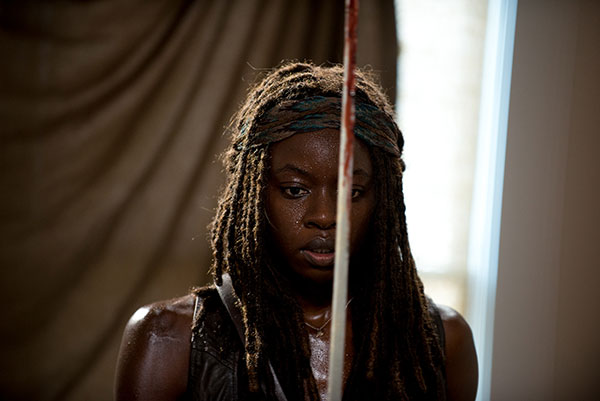 The episode ends in a pretty substantial cliffhanger, with half the characters trying the old blood and guts trick, and the other half trying to deal with Morgan's friend. Oh, and you did stay after the credits, right? Because we were introduced to the newest villain of the show, and Daryl, Sasha, and Abe are in trouble with his lackies.
Grade: