Editor's note: this review of AMC's The Walking Dead will contain some spoilers. I will try to keep them to a minimum, but they're be there nonetheless. You've been warned.
Things are going from bad to worse for the fine people of Alexandria. What started as a simple planning session to extract several thousand zombies from a quarry and lure them away from town has turned into an absolute quagmire. This week, we're checking back in with our bedraggled away team as they try desperately to get back to town before the horde.
Almost immediately, Rick breaks off from the others to grab an RV to redraw the horde back away from Alexandria. Before he goes, he makes sure to tell Michonne and Glenn to not worry about leaving everyone else behind in order to save their own necks. It's a bizarre and stupid exchange, thrown in just to add some additional tension within the group.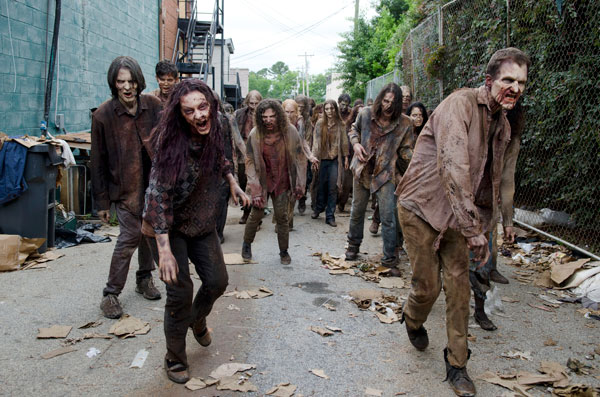 Let's start with Rick, shall we? It seems that surviving the zombie apocalypse has been pretty good for him, all in all. He was able to run the entire distance between the rest of the group and the parked RV, stopping only briefly to talk on the radio and engage a couple of zombies. Unfortunately for him, he also manages to cut his hand in the process.There is really no way that he didn't get any zombie fluids in the wound, which makes me wonder whether that's something to worry about. The Walking Dead has always played pretty fast and loose with zombie blood and gore, so I kind of doubt it. Still, it was a curious thing.
Rick also gets accosted by some living enemies, presumably more of the wolves. He takes out two in a brutal fight, and shoots the rest through the body of the RV. After that, he's stuck. The RV won't start, and the horde of zombies is showing up.
Luckily for Rick, it seems that Daryl is en route, after leaving Sasha and Abraham to drive the zombie convoy themselves.
This was my biggest problem with the episode, however. After Daryl drove away, I had absolutely no sense of where he was in relation to everyone else. There were some lovely shots of him riding, including a really cool overhead angle, but it didn't help. Without knowing where Daryl was, it felt like he was just out for a joy ride; it was a huge misstep for the episode, and really compounded some of the issues I was having with getting a sense of place out of the various actors in the story. Having a solid spacial understanding of the action is essential to getting invested in the story, and it was completely absent here.
But enough about that, let's just back to the others.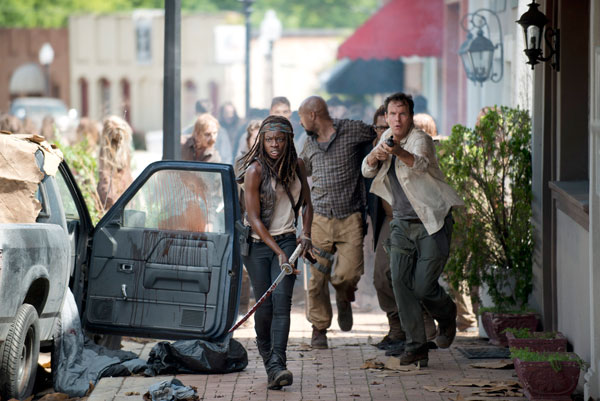 After losing a few red shirts along the way and suffering a friendly fire incident (I'm not even going to address the girl who hurt her ankle), Michonne, Glenn, and company barricade themselves inside an abandoned pet store. Glenn and Nicholas leave the others so they can go burn down a feed store, the theory being that it will draw the attention of the horde and keep Alexandria safe.
Once they leave, Michonne stupidly promises one man that he'll make it back safe, and gets into an argument with Heath, who of course heard Rick's stupid comments earlier. Luckily, they can't fight long since the zombies show up. They burst from the store and run away… into a fenced in alley. They get boxed in, and narrowly escape. Well, almost, another red shirt is lost, and Michonne has broken he promise.
Did anyone not see that coming? Anyone?
The remaining survivors cross a stream and make it back. Leaving only Glenn and Nicholas to talk about. And, oh man, Glenn and Nicholas.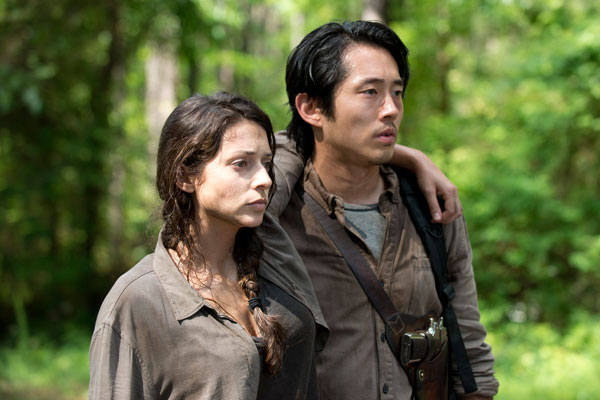 With Nicholas as his guide, Glenn sets off to do some arson. Unfortuntely, the zombies show up a lot faster than they expected, and the feed store was already burned down. Ooops. Nicholas leads on in a panic, and managed to find yet another fenced in alley. They climb onto a dumpster with an army of the dead pressing in, and Nicholas freaks out. Glenn tries to bring him around, but Nicholas is done for. He shoots himself in the head, and manages to knock Glenn to the ground as he falls. Nice one, Nicholas.
And this is the point that everyone is freaking out about. Glenn is trapped on the ground, surrounded by thousands of zombies. They tear at him. There's blood. Intestines. It looks bad.
But here's the deal. Glenn could be just fine.
When they fell, it looked like Nicholas fell on top of Glenn. It stands to reason that the zombie buffet are pulling him apart, all the while covering Glenn in a viscous coating of gore. Hey, doesn't that seem familiar? Didn't Glenn manage to walk right through hordes of zombies before with his gore camouflage? He certainly did.
That said, I really hope that's not what happened here. I like Glenn, both the character and actor portraying him are solid, and I don't want to see him killed off. The problem is, keeping him safe in this situation feels like a cop out. I don't like it. I'd rather lose the character than have a lame fake out death like that. I guess we'll wait and see.
All in all, The Walking Dead had a lot of fantastic moments. The action was great, and I really loved a lot of the cinematography, especially the overhead shots that gave you a perspective on the size of the horde. On the other hand, the show bumbled a few things. There were some dumb moments, and I had a lot of issues with the spacial interaction of the characters.
That said, I love the way they're embracing this huge mess, and stretching it into a multiple-episode ordeal with a ton of different perspectives. It could do with some tightening up, but I'm still entertained.
Grade: