Editor's note: this review of AMC's The Walking Dead will contain some spoilers. I will try to keep them to a minimum, but they're be there nonetheless. You've been warned.
I don't know how I managed this, but somehow I was completely unaware that The Walking Dead was starting back up on Sunday. In fact, I only found out when I got an email from Amazon thanking me for my purchase. Suddenly, everyone's posts about Rick on Facebook, which I had glazed over, made a lot more sense. But enough about me, let's talk about "First Time Again", the sixth season premier.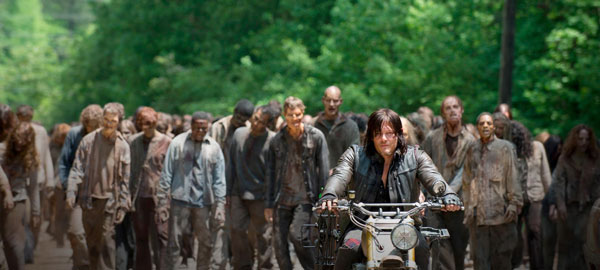 The big thing that jumps out at me about this episode is the way it is divided into two different timelines, with the sections in the past shot in black and white. When I talk about it in the abstract, it sounds pretty weird. It sounds like something that's too high concept to work, like the director just didn't trust the audience to keep track of the timelines without some giant, obvious visual clue. But I'll be damned if it didn't work.
It really helps that the story lends itself well to being broken up the way it was. There were enough branching plot lines to justify revealing them in a non-linear fashion.
It works particularly well with Carter, who begins the episode upset that the dry run has turned into the real deal, and who appears unable to cope with this. As we get more historical insight into his character, this makes more and more sense. Carter seems to be the only person who remember how Rick was acting last season: completely crazy. He's hesitant to trust the man, and I honestly can't blame them. He also questions the wisdom of Rick's master plan, wondering if buttressing the walls around town might not be a better way to go (more on that in a bit).
After his failed coup attempt, he's forced into going along with things, but he obviously still has serious doubts. When the plan seems to be working, he gradually accepts that Rick might just know what he's doing. And then he gets dead, his character arc having been completed.
Other than his death, which we'll get to momentarily, I absolutely loved the way this episode of The Walking Dead developed Carter. He seemed very realistic to me. And, despite the fact that he was acting as a foil to the established heroes of the show, I thought he made a lot of good points.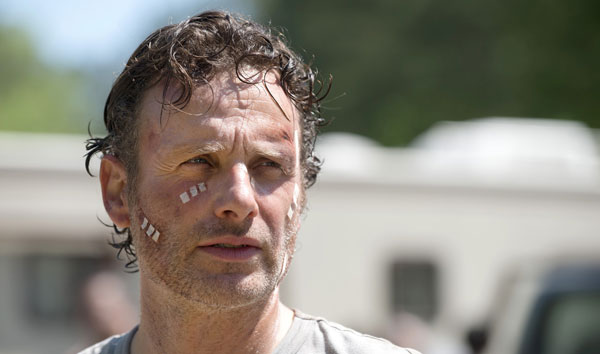 But then they killed him off once he'd come around, and that really bothered me. As I was watching the episode, I jokingly said to my wife that Carter was going to die after he made peace with Rick, and was disgusted to see that my tongue-in-cheek remark was completely true.
Why? Well, it cheapens the character. Rather than seeming like a real person, his character arc becomes incredibly transparent. He isn't a character so much as another challenge for Rick and company to overcome, and that's a damn shame.
Jumping back a bit, I think Carter made some good points about Rick's plans to lure the zombies out of the quarry and away from Alexandria. Reinforcing the barricades at the quarry could have bought them valuable time to come up with a better plan for dealing with the issue. Luring the zombies away would help in the short term, but in the end they would just be releasing thousands of new zombies into the world, and surely some of them would find their way back to the settlement. I would have done as Carter suggested, and strengthened the barricades (obviously necessary since the road collapsed), and found a way to destroy the zombies when they were still in the quarry, perhaps by burning them out.
Other than my issues with Carter, this was a stand out episode of The Walking Dead. The plotting was tight, with loads of tension. The huge army of zombies was incredibly impressive. The black and white sections were great. They were so great, in fact, that I now want to see The Walking Dead to do all their episodes in black and white. It just looks incredible and really fits the themes of the show.
I'm glad The Walking Dead is back, and am very encouraged by the strength of the premier episode. The siren at the end that draws all the zombies toward Alexandria was incredibly intriguing and helps erode the feeling of safety the town has. Of course, the show's problematic writing also came out with Carter, but those issues seem to be happening with decreasing frequency.
Grade: