Editor's note: this review of AMC's The Walking Dead will contain some spoilers. I will try to keep them to a minimum, but they're be there nonetheless. You've been warned.
Being an architect in training is a lot tougher in post-apocalyptic Alexandria than it is these days. I mean, sure, internships can be pretty rough, but that's a pretty far cry from, say, getting your face torn apart by zombies as you're pressed up against the glass of a revolving door. I guess that's just the way it goes in the zombie apocalypse.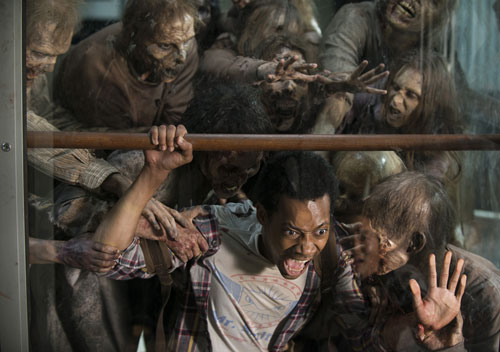 But we're getting ahead of ourselves a bit here, aren't we? Let's back up a bit.
Rick and company are actually fitting in pretty well in their new world. They're getting into positions of authority, saving lives, investigating random acts of owl vandalism, and making cookies. All things considered, they're doing alright.
Of course, in The Walking Dead, nothing comes easily.
From the outside, Alexandria looks like a paradise. It has strong walls, power, running water, and a lot of good people inside. The trouble is that those good people have never been put into the situations that galvanized our heroes. Sure, things haven't exactly been easy for them by out standards, but they've enjoyed a level of stability and convenience that everyone else assumed had disappeared when the zombies showed up.
For people like that, trusting these rough, potentially morally compromised survivors is going to be challenging. While they certainly have a lot of skills that could help the community, who knows what their real plans are. After all, it really wouldn't take much for Rick to depose Deanna and take over Alexandria. And we already know he's thinking about it.
I really like this as the central conflict for this story arc. It's a nice change of pace from things like the Governor because it forces us to look at zombie survival in a different way. I like the way The Walking Dead is playing with power dynamics and trust, especially considering how many tough choices the characters have had to make to get here.
I also really enjoyed the way Noah was trying to find his place in the world, while at the same time ensuring everyone's safety. He wanted to build things. He wanted to reinforce the walls and make Alexandria bigger and strong, because that's what needed to be done. I thought there was a lot of potential here to give an interesting but unestablished character some new things to do. Unfortunately it just didn't work out.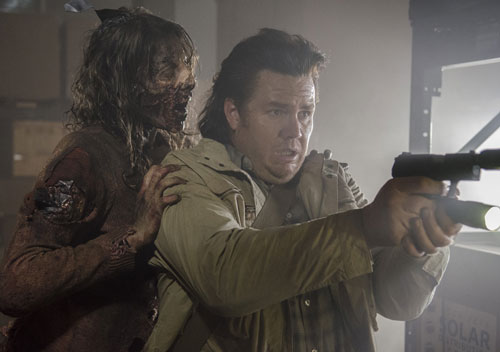 And it all fell apart thanks to the idiotic supply team, whose lack of experience made them panic. First, Aiden accidentally detonates a grenade, unleashing a horde of zombies and injuring both himself and Tara. Then Nicholas pushes his way out of a revolving door, feeding Noah to the zombies.
I thought this whole section of the show was really well done. I loved how they forced Eugene along, and how Tara's injury helped him to become strong and do the right thing. The weasels from the supply team were just as bad as the last time we saw them, although Aiden at least seemed like he was trying to behave. And the scene with the revolving door was absolutely amazing.
Still, it's a shame about Noah. The character had promise, and I really like the actor who played him. There have been a lot of big deaths this season, which makes me think the writers are trying to whittle down the cast a bit.
Another huge positive of the episode was Gabriel's scene with Deanna. I can't say I cared much for the cold open – we've tread on the crisis of faith thing a lot with this character already – but when he went to Deanna and tried to convince her the group was bad news, well that just worked. He seemed unhinged, which I would think Deanna would find hard to trust. But at the same time he spoke with a ton of conviction, leaving the town's leader quite shaken by the entire exchange.
Maggie got to hear the entire thing too, as she hovered on the stairs. I'm curious to see how this plays out.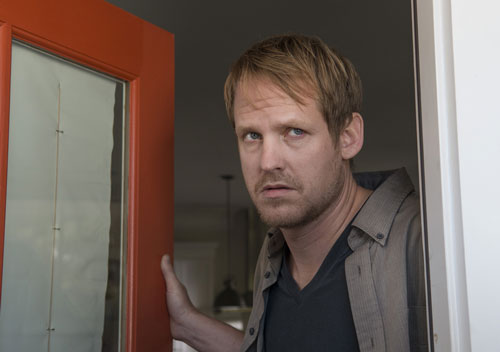 My big complaint about the episode is Pete. Making him a violent abuser just seems lazy to me. It's like the writers wanted to give Rick a love interest with some sort of conflict, but they didn't want the audience confused about their loyalties at all. I liked the situation a lot more when it looked like Rick was going after a happily married woman. Now that he's "rescuing" a battered spouse from a drunken abuser, I'm just not as interested.
Not everyone has to be either good or bad, writers. Real people are much more nuanced.
Grade:

And also, there's this: