Editor's note: this review will contain some spoilers. I will try to keep them to a minimum, but they're be there nonetheless. You've been warned.
The Walking Dead has been juggling quite a few different balls so far this season. We had Terminus and the hunters, Abraham's quest to get to DC, Beth's kidnapping, and whatever is going on with Gabriel. With the mid-season finale coming up next week, the show had to set each of these up for some sort of major plot movement, although you could argue that Abe's thread already had it's moment.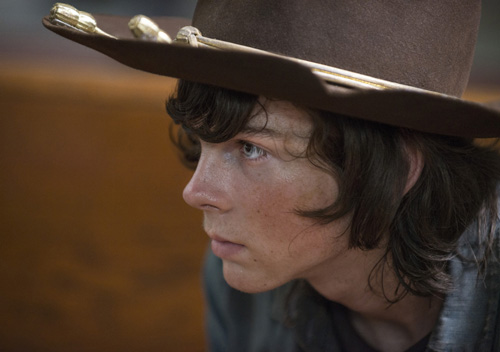 This episode divided its time between Carl, Michonne, and Gabriel at the Church, Beth trying to help Carol, Rick and company heading to the hospital, and the DC crew dealing with the aftermath of Eugene's big confession. Let's look at this last group first, since it appears to have the least amount of bearing on the mid-season finale. Abraham is clearly devastated by the news that the work he'd dedicated himself to in order to get over the death of his family was a load of bullshit. Rosita wants to help him, while Glenn and Maggie seem concerned that Eugene and Abraham might be beyond help.
I'm pretty torn on the episode. Watching Abraham sit on his knees all day was extremely frustrating, as was having Eugene remain unconscious for hours. On the other hand, I liked the fact that the episode gave Tara and Rosita something to do. I want to like Tara's character, but she seems to exist primarily to act as support for the more important characters in the show. In "Crossed" her personality got to come out a bit, which was nice. Rosita is an ever more challenging character, as she seems to only be around as eye candy, so it was nice to see that she was able to build a water filter and clean fish. Although it was ludicrous that no one else seemed to realize that they could simply place some cloth over the mouth of the bottle and clean out a good deal of the junk floating in the water.
The Walking Dead has always struggled with its character building, especially with female characters. I'm glad to see that they're trying to give Tara and Rosita distinct personalities and ambitions here. I really hope this trend continues.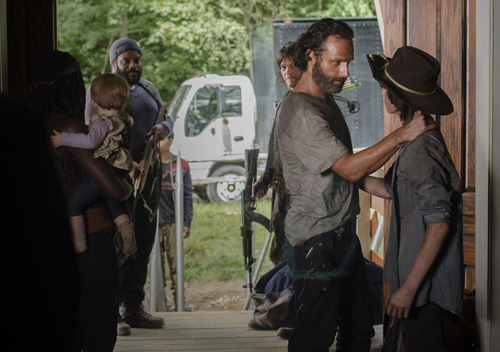 At the hospital, it seems like things are slowly descending into chaos. Dawn maintains control, but seemingly by the skin of her teeth. She gives Beth the key to the med locker in order to save Carol, but her motives are completely obscured. I'm not sure that this added much to the story; this plot arc is already heading toward a violent conclusion, some I'm not sure Dawn manipulating Beth is going to have much weight, but I guess it was a good way to get us back into the hospital and remind us of the stakes.
In the Church, Carl tries to teach Gabriel to defend himself, which seems like a lost cause. The priest feigns sickness and disappears to his room, where he is inexplicably tunneling out. He leaves without his machete or anything else for that matter, and immediately runs into a zombie that he has to fight off. He manages it, but can't bring himself to kill the zed because she's wearing a crucifix. I honestly have no idea what we're supposed to make of this; Gabriel is a frustrating character. I don't know where he's going, but with no food or water, I doubt he'll make it very far. I'm guessing he'll run into Glenn and company on their way back. We'll see there.
Finally, we get to the action-heavy part of the episode, with Rick and company formulating their plan to rescue Beth and Carol. Rick believes the best way to save their friends is to sneak in and kill everyone. Tyrese has a different approach: snatch a couple of the cops, and trade them for Carol and Beth. Strangely enough, the crew decides to try the plan that requires less wholesale murder, and quickly capture two officers. A third shows up to rescue them, and after a heated battle, chase, and no-holds-barred wrestling match, our heroes end up with three hostages instead of two.
One of the hostages, Bob, seems like a standup guy. He immediately recognizes Rick as law enforcement, and urges calmness and cooperation. Sasha takes a shine to the guy, in part because he shares the same name as her recently deceases boyfriend. But in true Walking Dead fashion, Bob isn't nearly as trustworthy as he seems. He tricks Sasha into looking out a window, and the bashes her head into said window, knocking her cold before making his escape, presumable back to the hospital.
This is very clearly a setup episode, putting all the pieces into place for the big mid-season finale showdown. The plot with the hospital is easily the most straight-forward of the three plot threads, and I'm curious to see what shakes out at the church and the fire engine. I also hope Gabriel either becomes interesting, or gets devoured. Either way, I'm good.
Grade: