Editor's note: this review will contain some spoilers. I will try to keep them to a minimum, but they're be there nonetheless. You've been warned.
…and then the bus caught on fire.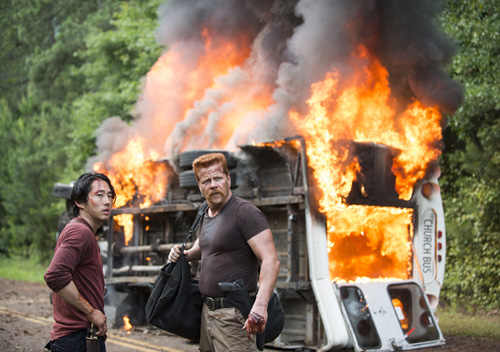 That's this episode in a microcosm. We spend the whole episode moving toward the common goal of getting Eugene to Washington, DC, but are stymied at every point. In the end, they don't make it terribly far. They're still very much in Georgia, probably only a short distance from the church. Fortunately, this might end up being a good thing, because of a bombshell Eugene drops in the final act.
But let's step back a minute, shall we? The Walking Dead has stacked quite a few cliffhangers on top of one another here. First, we see Daryl arrive back at the church with some sort of big reveal. We haven't found out what that is yet, but I'm guessing that he's coming back with Noah from the hospital, having lost Carol. And then there's Beth, who is still stuck in the hospital. That's a lot of balls in the air, and it was pretty strange jumping away from the hospital plot line to check in with Abe and Eugene.
It might end up making sense, though, if the a hospital rescue is the big plot movement for the first half of the season, and it's looking more and more likely that that's going to be the case. In order for that to work, however, we have to get the gang back together. And that's setup for "Self Help".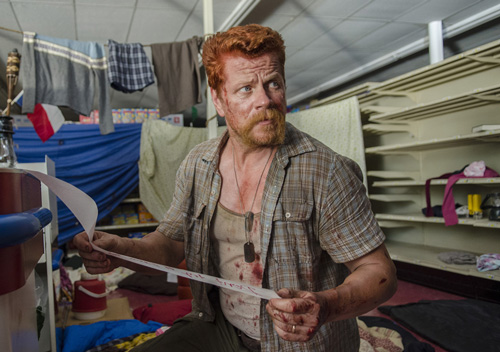 There's a fair bit happening in this episode, but the most interesting bits from my perspective revolve around Abe. Sprinkled throughout the episode are flashbacks from Abe's past, showing how he lost his family. I really liked the way these were structured. They just gave brief flashes that slowly built up to give us the whole story, and what a story it was. Abe was hiding out with his family in a grocery store, and had to kill something to keep his family safe. It's never made explicitly clear whether that was a zombie or a living person, but considering the abject horror of his family, it's a good bet that he killed a living person. They end up fleeing, afraid of their husband and father. They don't make it far, and leave Abe a tragically broken figure. It's only through meeting Eugene and learning of his "special mission" that Abe is able to continue.
That's a fantastic back story, and it's made all the better by Eugene's dark secret. As I'm sure most of us have guessed at this point, there is no cure. Eugene isn't even a scientist, he's just a guy who wants to survive and figures that his best chance of doing so is by manipulating more capable people around him. The trouble is, he pulled in a few people who were just a little too capable, and they were slowly but surely getting closer to the ultimate goal of Washington DC.
He tries to stall, even sabotaging vehicles to keep the group from moving forward. Unfortunately for him, nothing can stand in the way of Abe's single-minded focus on his goal, so every monkey wrench Eugene quietly throws in the works only slows the group temporarily; it never stops them. Nothing, it seems, can stop them. And that's how we end up with Abe insisting on a suicide run through a horde of what appears to be thousands of zombies. He is a man that is completely worn down, and unable to process another setback. The only way, in his mind, is forward, even if that means going through more zombies than the group has any hope of surviving.
It's a fantastic setup. While the rest of the group is united against Abe's plan, he refuses the listen to reason. In  the end, he decides to press forward with only Eugene in tow, and it's time to drop that big bombshell: there is no cure. Eugene is no scientist.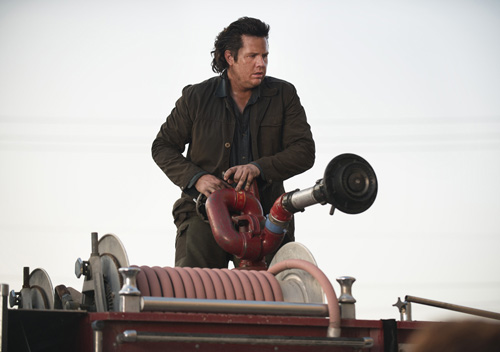 Most of us knew it was coming, but The Walking Dead manages to make what was an obvious plot device absolutely devastating to Abe. Eugene's cure was the only thing holding him together. He managed to suppress the trauma of losing his wife and children by focusing completely on a single goal. That got him across multiple states, helped him cope with the loss of a number of people in his group, and gave him the strength to keep pressing on when it would be far easier to just dig in and try to survive. And in the matter of a moment, it all disappeared.
It was a powerful moment, and I really bought Abe's reaction, even his violent attack on the man he'd spent the last god-knows-how-long protecting.
I mentioned above that The Walking Dead has a lot of balls in the air right now, and that's true. We've got a lot of outstanding plot devices to worry about, and several major characters are in danger. But I don't care about any of that in light of this episode. Don't get me wrong, I'm looking forward to seeing Carol and Beth rescued and the group to be reunited, but the real driving force of the show right now is to see how Abe deals with his life now that he no longer has a greater purpose. I hope the writers continue handling this as adeptly as they have so far, because it's one of the show's stronger moments.
It was so good, in fact, that I'm not even going to dwell on that ridiculous bus crash that opened the episode. Or that weird sex scene.
Grade: