Editor's note: this review will contain some spoilers. I will try to keep them to a minimum, but they're be there nonetheless. You've been warned.
After last week's crazy season premier, I figured the second episode of AMC's The Walking Dead would take things down a notch, and boy was I right. It makes narrative sense, of course. These characters are recently reunited, and have just survived a huge, huge trial. They're not really going to jump right into another mess.
It also makes a lot of sense from the perspective of this season's story as well. We need to figure our what, if anything, we're going to do about Eugene and Washington, DC. That's a big decision; not one to be taken lightly. And then there's the question of survivors from Terminus, and how they're going to interact with this season's plot.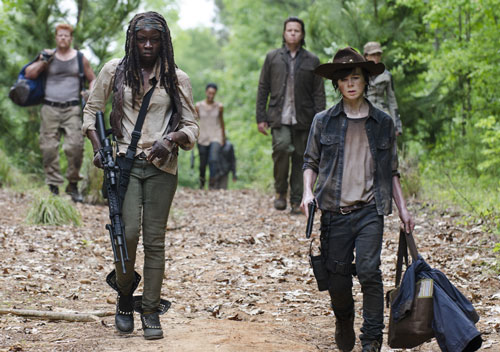 This episode addressed all these points fairly well, but only after a completely pointless and frustrating action scene. But I'm getting ahead of myself again. Let's start with Gabriel, the priest our crew rescues from a handful of zombies at the beginning of the episode. Gabriel is a mysterious character. You can tell immediately that he has something to hide, but he seems completely unwilling to divulge anything.
Rick gives him the three questions: How many walkers have you killed? How many people have you killed? Why? Gabrial responds with "none", "none", and "because God", which is pretty much what I expected. It really feels like The Walking Dead is trying to make these three questions into some sort of important litmus test for survivors, but it's really not working for me. They just seem contrived; like the dialog from a cartoon show. I can't stand them.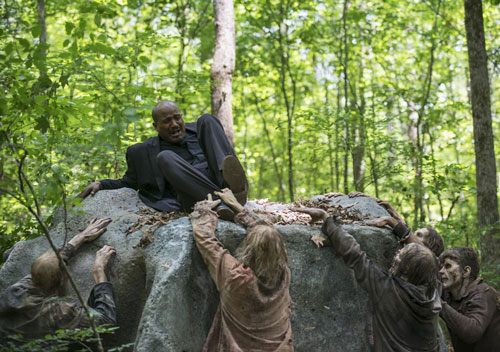 Even though Gabriel is deflective and cagey, we fall in with him anyway when he says he has a church. I half expected this to be some sort of metaphor, but he really did have a pretty comfortable looking church, which gave our characters a bit of a respite, and even had a repairable bus out back. Not a bad score.
Of course, the church didn't have any food in it; Gabriel is near starving after eating through all his supplies and scavenging from every building nearby. That necessitates and trip into town to scavenge from the one building that hadn't been cleared out yet: the thrift shop and neighborhood food pantry.
And this is where things when off the rails for me. The floor of the building had rotted away, turning the basement into a chest-deep pool filled rotting, water-logged zombies. It was super gross and featured some incredible makeup work. Unfortunately, all the food was stored in the basement too, which means our heroes had to venture down there for supplies.
Unfortunately, our heroes had all taken their stupid pills that morning, and settled on probably the stupidest plan to secure the food: splash down into the basement and fight the zombies with knives.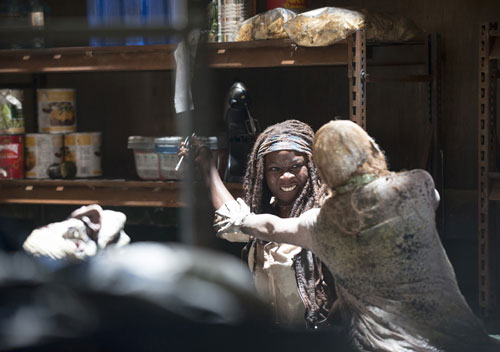 I think any rational person would have come up with a much safer, simpler plan. They have the benefit of being above all the zombies, and out of their reach. From this point of advantage, they could simply shoot all the zombies n the basement without taking a single risk. Of course, ammunition is a finite resource, so they could very well want to avoid using it and making noise. In that case, all they'd need to do is find a few big rocks or bricks, and simply hit the zombies in the head. They're so rotten from being in  the water that they all but explode and the slightest of touches.
Instead, we get a completely pointless action sequence, and my opinion of the group's collective intelligence drops once again. Naturally, Bob almost gets killed by a submerged zombie. He may have been bitten in the exchange, but says he's cool. Gabriel also freaks out when he sees a certain zombie with glasses, furthering the mystery of what his ugly secret is. Eventually, they manage to get the food and get out.
Arriving back at the church, Carl shows what he learned in Rick's absence: some knife marks outside a window, and a carved message: "You'll burn for this". It seems that Gabriel wasn't being terribly neighborly when the zombie showed up and started eating all his parishioners. We also get a brief scene of him acting upset while looking at a picture of him with the glasses zombie girl (before she was a zombie).
Flush with their success from Operation Almost Get Eaten in a Basement, Rick decrees that they will head to Washington to save the world, and everyone is pretty happy about this. And this is where the episode gets weird. Carol heads outside to work on her secret escape car, and is joined by Daryl. Suddenly, a car speeds by, and Daryl identifies it as the one involved in Beth's kidnapping. He smashes out the break lights and takes off in hot pursuit.
At the same time, Bob also wanders outside to cry quietly to himself, but his tears are interrupted by a sudden blow to the head. When he wakes up, he's got one less leg, and that leftover bad guys from Terminus are chowing down and telling Bob all about their lifestyle choices. It's a hell of a way to end an episode.
There's a lot of good stuff in "Strangers", but it's a pretty messy episode. There's just a little bit too much going on, and the stupid scene with the basement zombies completely took me out of the story. I love the stuff their setting up for the season, but I wish the rest of the episode had been a little more consistent.
Grade: