Editor's note: this review will contain some spoilers. I will try to keep them to a minimum, but they're be there nonetheless. You've been warned.
You know what I like about Carol? Carol gets shit done. She started the show as a mousy, scared woman under the sway of an abusive husband. In essence, she was a character mired in cliches. While I, and probably everyone else, hated how much time we spent spinning our wheel in season two looking for her daughter, that experience did a lot for her character. Carol has gone through hardship and loss and come through it as something much stronger. The result is a woman who is willing to make hard choices with a level of commitment we rarely see in characters.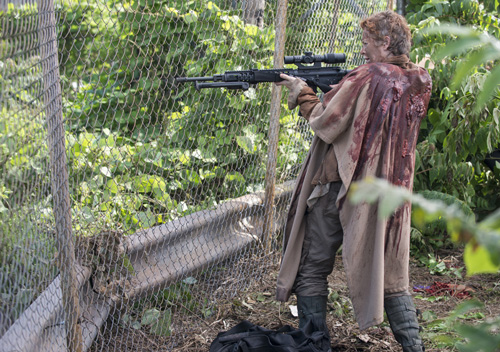 Basically, if I was in the shoes of Rick and company, just waiting to get bled out by a bunch of psychotic cannibals, Carol is exactly who I'd want on my side, organizing a rescue operation. But let's not get too ahead of ourselves.
At the end of the last season of AMC's The Walking Dead, we found out some of the ugly truth behind Terminus. All the signs routing survivors there were, as many people had guessed, little more than an elaborate trap. People were brought in, robbed blind and… well, that's where we left off. "No Sanctuary" wastes little time giving us an answer. The people running Terminus aren't simply violent thugs, they're also cannibals. Every survivor that comes into the rail head is stripped of possessions and thrown unceremoniously into a train car (a little heavy-handed on the symbolism, isn't it?), where they wait until the people of Terminus get hungry.
The scene in which the two men "process" their meat is violent and disturbing in exciting new ways, even for The Walking Dead. I saw the bat. I saw the knife. I saw the aprons. I knew what was going on, but I didn't honestly expect to get the brutal display that "No Sanctuary" gives us. The first few terrified men – characters we don't know, naturally – are taken in turn. Each is clubbed in the head, and has their throat cut, vomiting a torrent of blood into the basin in front of them. It's shocking and ugly, exactly the sort of thing the show needs to do to really commit to its stakes.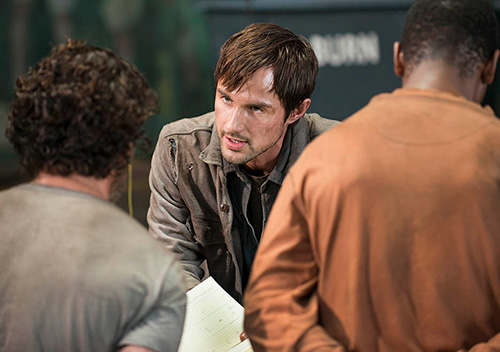 We don't waste a lot of time setting up the Terminus group as bad guys. All that is established in short order through their horrific actions. I love this kind of narrative efficiency, perhaps even more so that it's rarely on display in The Walking Dead. it allows us to jump directly into the action of the show and resolve the huge cliffhanger from season four. In less capable hands, this one-episode resolution would feel a little too quick and convenient, but it works really well here.
I also really like the liberties the writers take with the timeline. The story isn't told in a completely linear fashion, starting with Carol and Tyrese capturing that guy with the Tigers hat. Instead, we start with the cold and clinical brutality of the bad guys, and see that Rick and company's situation is even more dire than we were already thinking. The stakes are raised, and then we check in with Carol. That's effective storytelling, something The Walking Dead of two years ago would not have been able to pull off.
Speaking of Tigers hat guy, I found his scenes with Tyrese to take the steam out of the episode a bit. I know where they were going with it, but it really just didn't work for me. We know how this show and its world works at this point, we really don't need to keep forcing characters into the same tired "kill or be killed" situations. I like Tyrese, and I think the character has a ton of potential, but I just wasn't buying his inability to take out zombies. Sure, I can see him not wanting to kill Tigers hat guy, but we all knew where that story was going, so it ultimately felt like a wasted opportunity.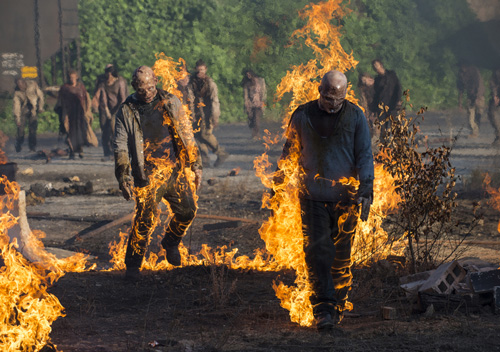 But how about that escape? It was tense and action packed, and was just hitting all the right notes. I loved how effectively the show tracked all the different things that were going on at the same time: Carol infiltrating the compound, the hordes of zombies, the Terminus folk's response, and Rick and company making their escape. Beginning to end, the entire sequence what handled flawlessly, and gives me a lot of hope about where this season of The Walking Dead is headed.
One thing I wasn't so sure of was how they tried to give some motivation to the bad guys. Don't get me wrong, I don't like cartoonish, mustache twirling baddies, but the explanation and flashback that we got felt a bit tacked on. I liked that it informed these bad guys actions a bit, but ultimately all it did was transfer the cartoon bad guy title from the Terminus survivors onto whoever those other dudes were.
Ultimately, if this is the way The Walking Dead is going, then count me in. The show had a lot of problems in its first couple of seasons, but since then it's become much more confident and effective, and what we're seeing now shows us just how far this show has come and what it's capable of. Hat's off, AMC.
Grade: