A big part of putting together Bricks of the Dead is photographing and editing each frame of the comic. While I can't claim to be a great photographer, I have learned a thing or two in the few years I'm been producing this comic. I also quite enjoy experimenting with photography. There are a lot of technical and creative aspects to the craft, which constantly inspires me to learn more and try new things. To that end, I also want to continually improve my skills, which is why I love to read books like Michael Freeman's Photo School Fundamentals.
Photo School Fundamentals is divided into four, roughly equally-sized section: Exposure, Light & Lighting, Composition, and Digital Editing. The first three parts all focus on different aspects of capturing the image, and run the gamut between technical knowledge and artistic advise. The final section deals with the photographer's workflow in Photoshop and other tools to optimize the image, with a distinct focus on the differences between Raw processing and pixel editing.
Like The Photographer's Eye, another Michael Freeman book I reviewed, Photo School Fundamentals has a wonderful approach to teaching. Concepts are introduced in text, with brief but very educational copy guiding you through the important principles. The text is accompanied by a number of striking photographs, beautifully illustrating the subject of that particular lesson.
This book takes this approach a step further, and add photography challenges to the end of most of its lessons. Each challenge asks you to put down the book and pick up your camera (or editing software in the final chapter) and actually apply what you've just learned. These challenges are brief and fun, and really help to cement the concepts the book is trying to teach. Done well, an aspiring photographer could use these challenges to help develop their portfolio while deepening their skill set and understanding of the craft.
Freeman further builds on this by featuring a number of students, whose work he critiques throughout the book. For each challenge – save one – two students are selected to show their work and briefly talk about the image they're presenting, followed by Freeman's thoughts on their work. He is, of course, generous with his praise, and the students are no slouches, but getting the chance to see how others are applying the techniques of the book was really effective to me.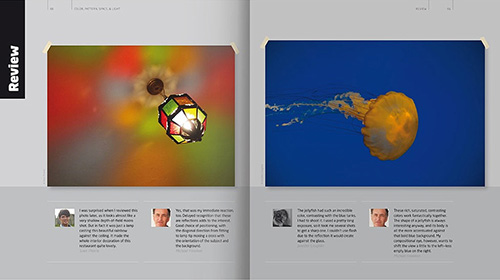 If I had a criticism of Photo School Fundamentals, it would be that the final section, Digital Editing, feels a little out of place. On the one hand, it's obvious that this is an important part of the process, but on the other, it feels too broad to me. Digital editing is a deep subject, even before you take into account the countless different tools available. This section was, of course insightful and packed full of useful information, but felt like it was only scratching the surface. A more focused approach, perhaps only dealing with raw processing, might have served the book a little better.
But don't give too much credence to this minor complaint, Photo School Fundamentals is an amazing photography book. It's tremendously informative, and teaches without being overly technical. I would definitely recommend this to anyone interested in photography.
Grade: