As I'm sure you've all noticed, there have been a few changes around here lately. Since a few of you have asked what's going on, I figured I should probably give everyone the low down. Last week WordPress, the tool I use to power Bricks of the Dead, released a major update. I tested it and everything seemed fine, so I installed it. Shortly after that, several people pointed out that the comic navigation no longer worked.
Since that was a problem, I set about finding a solution right away. As it turned out, the fix for this was updating my theme (ComicPress), which I had been putting off doing because there had been major changes and I really didn't want to deal with it. Suffice it to say, I bit the bullet and updated it anyway.
It completely broke the look and feel of the site, so I spent about four hours last weekend cleaning things up and making everything look close to the way it's supposed to. That said, there are still a number of minor differences here and there. Some I like, some I don't. Odds are, I'll probably continue tweaking things in the coming weeks.
A lot of people assumed that this was a site redesign. It's not, it's just some updated core functionality, which changed a few visual elements on the site.
I point out this difference because I am, in fact, working on a proper redesign of the site right now. This redesign is going to be fairly comprehensive. I've set the following goals for myself for the updated Bricks of the Dead:
Improve the speed and stability of the site
Allow room for wider comics
Make the site responsive, which means that it will work much, much better on mobile devices
Improve the overall design
Change the blog structure to be much more visual (pretty pictures, ya'll)
Fun stuff, right? I know that all sounds pretty boring, but this is what I do for a living, so it has a tendency to bleed into my hobbies as well. Here's a very, very rough draft of the mock-up I'm working on: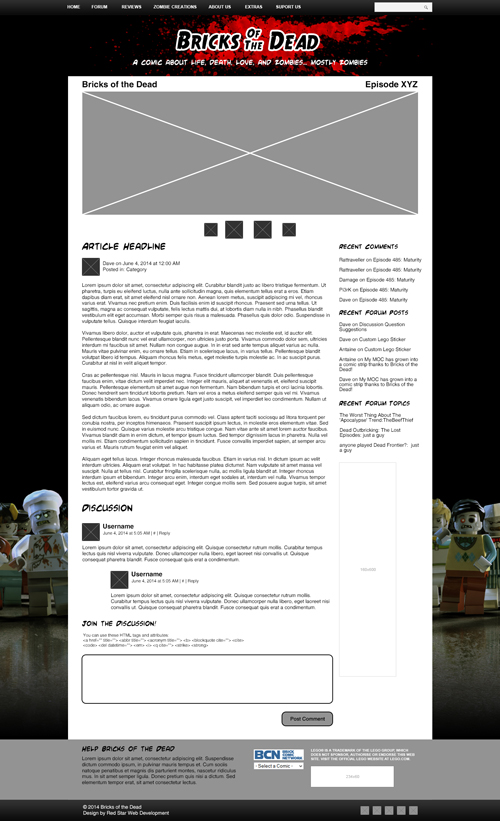 As you can see, I've still got a heck of a lot of work today, so don't expect this anytime soon. I'm planning to work on this between other projects. I work full time, freelance part time, and – of course – maintain this site. That's going to give me precious little time to knock this out.
So that's what's going on. I appreciate everyone's patience while I fixed the broken stuff. If you have any suggestions or feedback on the eventual redesign of the site, don't hesitate to let me know.