There's a lot of zombie stuff out there, and most of it is crap. People like to jump on bandwagons and produce quick tie-ins rather than investing love and effort into their creations. Luckily for you, I'm here to help separate the wheat from the chaff. Check back every Thursday, when I'm going to share the coolest zombie-related creation I can find out there on the web.
The Zombie Creation:
This week's LEGO Zombie creation, "Section E2 02" by C-Core, is less of a zombie creation and more of a post-apocalyptic one. I know, I know, I've been doing a lot of apocalego lately, but there just hasn't been that many zombie creations showing up on Flickr lately. Besides, this is super cool.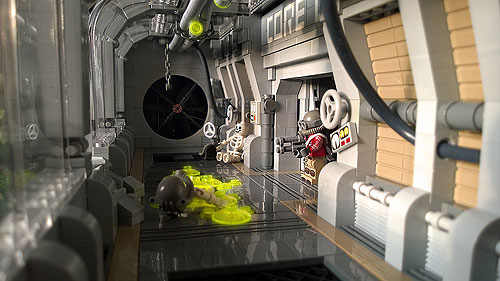 So What's Going On?
This is actually part of a series. As you might guess, it starts with Section E2 01 and goes on from there. Each one is incredible, and I highly recommend checking them out.

In this installment, our post apocalyptic hero, referred to as only "The Warrior" is checking out an abandoned research facility. A quick look around should give you a good clue as to why the place was abandoned.
What I really like about this creation is how well developed the world is. This place looks like it was really lived in, and the way nature is slowly reclaiming it feels very realistic. It's something I'd love to explore.
Let's Talk About the Zombies
Well, there aren't any zombies here per se, but this a post-apocalyptic wasteland, and it's an abandoned research station, which means the possibility of zombies lurking somewhere inside is pretty damn high.
Have you seen a great zombie creation out on the web? Are you working on the next great zombie MOC as we speak? Well you had better let us know right away, otherwise we'll never be able to include it here.